Let's be Frank hotdog cart brings back an American classic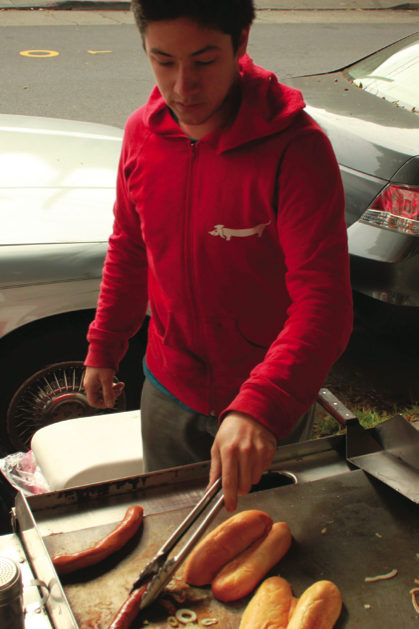 Alice Jones
Reporter
Fillmore Street is not lacking in restaurants, but the Let's be Frank hot dog cart at the corner of Sacramento Street provides a less-extravagant meal with the same amount of flare.
With a blossoming company that includes brick and mortar shops as well as carts, owners Sue Moore and Larry Bain have worked to bring back the hot dog's iconic position in American culture while keeping the dog contemporary with grass-fed beef and locally-farmed ingredients. Moore, being an active part of the San Francisco Sustainable Food System, has worked to make sure the ingredients for the dogs are high quality with no nitrates, nitrites, hormones or antibiotics, and has cut out the excess fat of the typical hot dog.
The turkey-filled Bird Dog and a special-order Veggie Dog provide a satisfying hot dog experience for the lunch crowd trying to cut down on red meat — or meat all together.
The cart's four other dogs, the Mutt (beef and pork), Frank (standard dog), Heat (spicy dog) and Brat, are all perfectly juicy and the right size to tide you over until your next meal.
Options on the dogs include grilled-on-the-spot onions and organic yellow and Dijon mustard, ketchup, sauerkraut and relish. The daring can try the Devil Sauce, an interesting take on a chutney made with jalapenos, ginger and garlic, giving the all-American hot dog a Middle Eastern twist.
A steamed and grilled traditional white-flour bun, specially made by the Acme Bread Company, is the perfect balance of bun to dog, as well as a successful and delicious first try for Acme as it breaks into other types of rolls.
The $5.50 price tag is a little steep for a hot dog, but the dogs are consistently good and justify the price with their delicious taste and local ingredients.
Accessible to students with a 5-block walk along Fillmore Street, and combined with outdoor tables snagged from Coffee Bean & Tea Leaf, Let's be Frank is an easy, tasty lunch for a reasonable price.
Let's be Frank hot dog cart
Sacramento & Fillmore streets
Thursdays 11:30 a.m. to 4:30 p.m.
www.letsbefrankdogs.com
Let's be Frank also has a shop on 3318 Steiner St. and another cart at the Warming Hut in Crissy Field.

(Visited 108 times, 1 visits today)