Project Eye-to-Eye teams teens and grade schoolers together with learning differences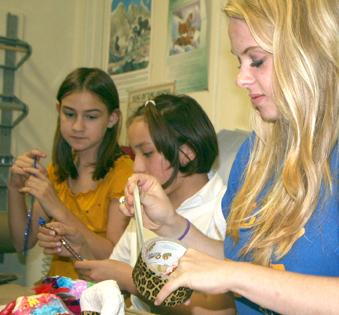 Sophia Redfern
Reporter
High school students partnered with their elementary school buddies crowd around two tables in a dimly lit room, laughing and creating plaster molds over elbows and hands for an art project. Despite the age gap, they all have one aspect in common — learning differences.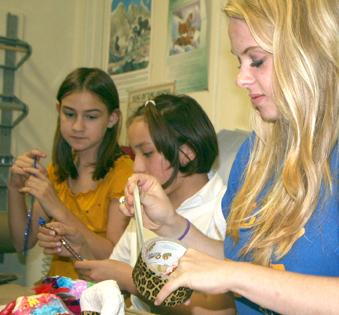 Project Eye-to-Eye, an after-school program affiliated with the non-profit organization of the same name, aims to build self-esteem with learning disabled and attention deficit hyperactivity disorder youth by matching young adults with elementary children to act as mentors to empower their learning, according to Project Eye-to-Eye's website.
"Our goal is to get kids comfortable talking about their learning differences and make them comfortable speaking up for themselves," senior Quinn Reno, Project Eye-to-Eye club head, said. "We create art projects such as 'What your ideal classroom would be' for the kids to express their learning styles through art projects."
The elementary school students learn that having a learning difference does not make them different, just that they learn in different ways than other people, and that there is hope for themselves in the future, according to Project Eye-to-Eye's website.
Reno begins each Tuesday one-hour meeting with a call and response. On this day she asks the students to state what they're going to be for Halloween and what their favorite type of candy is. The circle of children respond eagerly, then settle into the art project they began at the last meeting.
"So far plastering has been my favorite art project," St. Vincent de Paul school student Katie Dusanic said. "You get to pick something you're good at and show that you're proud of what you can do. We plastered different body parts showing our abilities. I did my hands since I'm fast at typing and I play guitar."
Project Eye-to-Eye began as a small service project in 1998 in Providence, Rhode Island between a group of Brown University students and Fox Point Elementary students with academic labels such as LD and ADHD.
"This does more than just help the elementary kids," Reno said. "It helps our students here at CSH, too. It builds community since all grades are welcome to participate."
CSH partners with St. Ignatius High School in working with St. Vincent de Paul elementary students.
"I've been coming here since I was in fourth grade," a St. Vincent de Paul sixth grader whose parents requested for her to be anonymous said. "It's really fun. I always look forward to coming here."