San Francisco food trucks offer great eats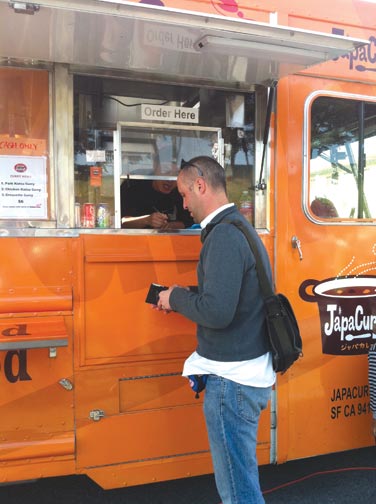 Simmering curry, roasting barbecue and popping kettle corn mix a medley of mouthwatering smells as droves of diners enter the normally desolate parking lot of Fort Mason on a Friday night. Parked food trucks form a ring around the bustling crowd of customers as they choose their dinner.
"There's a great community vibe here," Chris Miller said as he balanced his daughter on his shoulders while waiting in line for dim sum. "I love taking our kids to food trucks for dinner because everyone gets what they want."
From Curry Up Now to Kung Fu Tacos, the individually-themed food trucks offer a wide variety of menu options. This weekly market is hosted by Off the Grid, a San Francisco organization that posts several trucks in various locations at the same time each week.
"The core value of Off the Grid is to expose as many people as possible to great street food," founder Matthew Cohen said. "One great fringe benefit is the community feeling. It's a great opportunity to connect with friends and neighbors."
Cohen began Off the Grid last year, inspired by consulting with mobile food truck vendors who wanted a way to group together legally in San Francisco.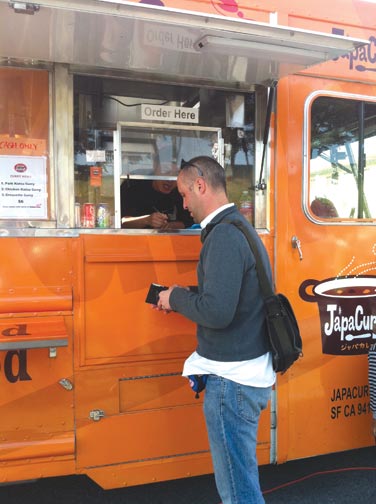 "Food trucks work well here because people in SF tend to be foodies, who are interested in different types of food and are ready to try all the crazy concepts," Cohen said. "There's a limited amount of outdoor dining, so people appreciate the ability to sit outside. SF is also pretty tech savvy."
Technology is a key component in promoting mobile vending. Most trucks have Twitter accounts, updating followers on where they will be throughout the week. Roaming Hunger, a website that helps connect customers and vendors, utilizes not only Tweets, but Google Maps and an iPhone App to help people find their favorite trucks.
Like Cohen, Roaming Hunger founder Ross Resnick was introduced to street food while traveling throughout Asia. Upon returning to Los Angeles, Resnick says good food trucks were nowhere to be found. When he moved to San Francisco, he noticed the emerging street food scene and began keeping track of the trucks, eventually turning this information into the basis for Roaming Hunger.
"Our mission is to support and promote the street food movement and bring more people into the world of street food," Resnick said. "Food trucks offer high quality food at less cost, which is really compelling."
Vendors agree that the price difference between food trucks and brick-and-mortar restaurants is integral to their success.
"Everyone can get a taste of fine dining for $5 instead of 50," Jason Hoffman of The Taco Guys food truck said. Hoffman's truck offers "eclectic tacos" varying from Indian to Moroccan-style.
Running trucks like Hoffman's may seem simple, but Hoffman argues that mobile kitchens involve more elements than sit-down restaurants.
"We have to deal with all the logistics of running a restaurant plus the logistics of running a delivery company and a catering company simultaneously," Hoffman said.
Although sometimes challenging, the food truck industry is expected to expand rapidly. Cohen plans to open Off the Grid weekly markets in Berkeley and San Mateo, while Resnick predicts street food spreading all over the country.
"Food trucks are going to go to every city in the U.S. that allows them," Resnick said. "New places will import trucks, crazier and crazier concepts will emerge. The spectrum of possible food options will expand, trucks will expand, the customer base will expand. In every direction it's going to grow."