Sophomore reflects on time at NYC Sacred Heart school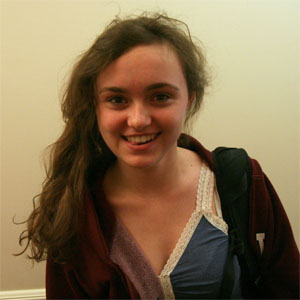 Isabelle Pinard
Reporter

Submersed in the bustling crowds of New York City, sophomore Eliza Klyce's experience as an exchange student for a semester at Convent of the Sacred Heart High School in New York City (91st Street) forced her to grapple with the issues of being an independent teenager experiencing an entirely new school.
Klyce adjusted to nine 45-minute periods per day, which was a change from her four or three periods a day at CSH San Francisco.
"There were so many subjects everyday and homework for each," Klyce said. "My major issue was that there was no lunch period, it was just a free period if you had one — and thank goodness I did."
Adjusting to her new school curriculum at 91st Street, Klyce noticed that students appeared to be very serious and competitive with their academics.
"It was very competitive because each person was in a rat race to get into an Ivy League [college]," Klyce said. "I had to stay on top of my assignments because it was easy for teachers to deduct points if homework was done incorrectly."
The classrooms physical size are larger, the courses are only single sex and students seem to have more formal relationships with their teachers.
"We are closer with our teachers," Klyce said. "At CSH they are more like mentors, but in New York they are more like college professors."
One of the best parts of the experience for Klyce was the food.
"The amazing thing was that the food was free at the cafeteria, the quality of the food was delicious and they had actual porcelain plates," Klyce laughed while reminiscing. "It was like eating in a tearoom, but I missed those croissants."
Starting the school year in New York in September, Klyce enjoyed the weather of the last days of an East Coast summer, but by the time December finals hit, Klyce found the cold unbearable while wearing the school's strict uniform.
"The problem was that you had to wear the skirt — no exceptions," Klyce said. "There were no sweat pants,catches or boots — only skirts and sweaters. During final exam week the weather would be freezing and your lifelines were knitted tights and the school's gray wool skirt."
Despite differences in the atmosphere between 91st Street and San Francisco, Klyce found the Five Goals to be a unifying bond between the school.
"The Goal that stands out to me the most is Goal Two, which is a deep respect for intellectual values," Margaret Savino, Upper School Head of 91st Street, said. "It is about curiosity, the willingness to explore various academic mediums, the willingness to teach through different strategies, and most crucial, the willingness to internalize that very phrase 'intellectual values'."
Even though Klyce focused on her studies in New York she also remained active as an athlete.
"I am an international foil fencer," Klyce said. "I know I was in a new place, but I researched areas and ended up at the Empire United Fencing Club so that I could get some practice in."
Klyce says having both sports and academics in New York gave her a familiar rhythm that made her feel more at home.
"I think that kids should play a sport that they love no matter where they are," Eliza's mother Ellen Klyce said. "Not letting them play a sport that they are passionate about is like telling them they can't go to school because sports are as much a part of education as is math and science."
Living in New York, Klyce had to learn money management and how to consolidate resources.
"I didn't have the luxury to do a lot of shopping. Most of my money went to cabrides so that I could get around town or to school." Klyce said.
Klyce said she also learned how to keep her studies under control and described it as being an "almost adult" experience.
"I had a sense of freedom and was less dependent on my parents," Klyce said. "This exchange to 91st Street was not only a wonderful experience academically, but it also taught me many life lessons that I know I will use when I go to college and beyond."
(Visited 824 times, 1 visits today)