MLK Jr. honored in assembly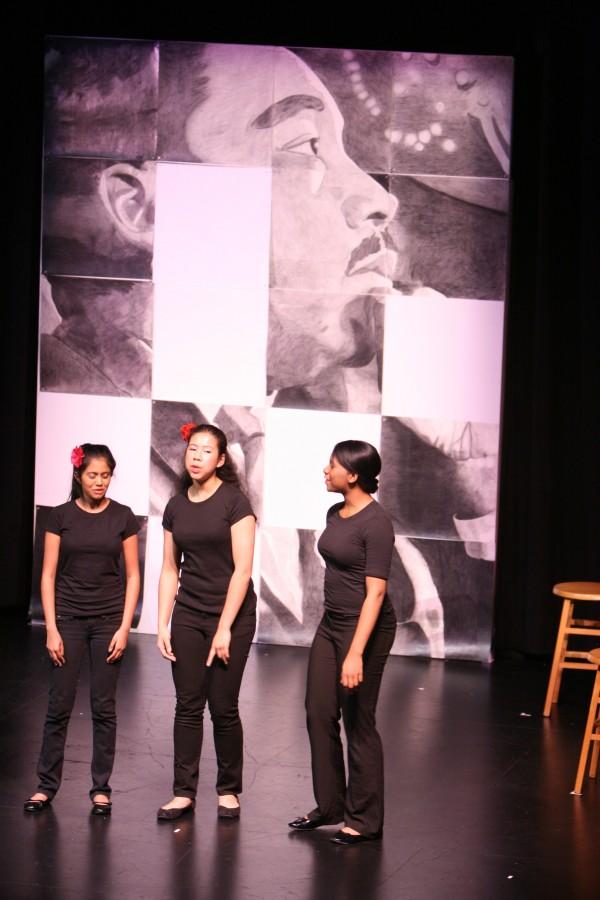 Julia Nemy
Reporter
Students honored civil rights activists in a performance highlighting the struggles of African American slaves and racism in American history in an assembly last Friday in the Syufy Theatre.
"I think it's important to have celebrations and such to continue and remember the dreams and triumphs of the civil rights movement," said sophomore Jewel Devorawood.
The cast performed African American poems, dialogues and songs that they have rehearsed for the past three months under the guidance of English department chair Karen Randall during Breakfast Club, lunch periods and after school.
"My experience has been amazing," said freshman Ayesha Sayeed. "At first I was hesitant with the upperclassmen, but they were really welcoming and we worked on a great show together."
The 50-minute performance brought tears to the eyes of many students and faculty, and the audience rose to a standing ovation after the final performance.
The performance as a whole consisted of several different segments — such as God Bless a Child by Billie Holiday sung by Natalie Sullivan, and Harlem Sweeties by Langston Hughes performed by several group members.
Sayeed, the only freshman performing in the group, gave a monologue about the experiences of Ruby Bridges — an African-American girl who attended a segregated school.
"I hope people take away that the struggle African Americans went through to be noticed, heard and treated like human beings was long and hard, yet worth every protest and rally," said Devorawood. "I also hope they take away the more general message that all dreams, no matter how big or small are worth the fight to achieve."

(Visited 113 times, 1 visits today)