San Bruno explosion has detrimental effects
Zoe Newcomb
Editor-in-Chief
A deafening crack echoed through San Bruno on Sept. 9, turning the quiet Thursday evening into something out of an apocalyptic movie as flames consumed the Crestmoor Canyon neighborhood, killing at least four people, injuring dozens more and damaging hundreds of houses.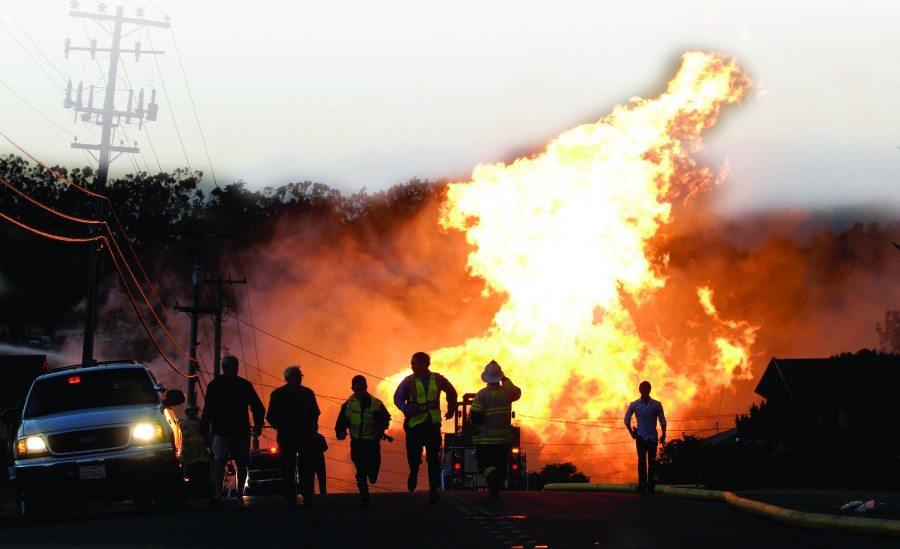 What eyewitnesses described as a bomb, a plane crash, an earthquake, and a fire geyser was actually a natural gas line explosion causing $64.5 million worth of damage and leaving a crater in the middle of the suburban neighborhood. In a press conference the evening of the explosion, Millbrae Fire Chief Dennis Haag described the chaos of the evacuees and confused first-responders as a "messy scene down there."
"I hope never to see anything like this again," Haag said of the extreme heat explosion that cracked the windshields of fire trucks and prevented first-responders from getting to the epicenter of the scene until hours after the initial explosion.
Emergency shelters were quickly erected for the hundreds of residents evacuated, and hotlines put in place to account for each household affected by the fire.
At the scene of the fire San Bruno Mayor Jim Ruane avoided specificity and simply addressed the broad devastation of the pipeline burst.
"A terrible, terrible tragedy has fallen on our city," Ruane said. "This is going to be a long haul for out city."
Two weeks later, the chaos has changed from just a simple explosion to a multifaceted issue as details continue to emerge and officials search for three residents still missing as of press time.
"All dead have been identified, anyone else missing are presumed dead. Mom, Greg and Willie have not been found," Gary Bullis said of his mother, brother and 17-year-old nephew.
The remains of four residents have been found and identified, including those of San Francisco State alumni Jacqueline Greig and her 13-year-old daughter Janessa, who attended St. Cecilia Elementary School. Officials believe the high-temperature fire will have burned away the DNA in any other remains at the scene — making it impossible for physicians to make any additional concrete identifications.
While Pacific Gas and Electric Co. has made a public apology and a $100 million pledge to assist victims of the fire, a San Bruno resident and fire evacuee Steve Dare is suing the company, asserting that without the court's involvement the company could withdraw their pledge.
Dare's attorney cites "lack of transparency" in the lawsuit as the main issue, suggesting removing PG&E's own agenda would ensure that victims would receive the assistance they need.
California Governor Arnold Schwarzenegger returned from a trip abroad to Asia and toured the site of the explosion, releasing a statement last Friday addressing a lack of answers from PG&E regarding specific details of what happened.
"The people of California deserve to know what cause the explosion, so we can learn from it and make sure it never happens again," Schwarzenegger said.
The fire is still pending Federal Emergency Status, which would allow the state to receive federal money to pay for damages and repairs.
"Its so scary that this could happen to anyone," senior Sima Daniel said. "I don't really understand how a pipe could just explode, and how am I supposed to know if theres one near me?"
Daniels concerns reflect the greater Bay Area community, as many residents struggle to find out whether their home falls near any of PG&E's other "100 priority pipelines," like the one that exploded. While the list of names is currently available through state websites, finding the exact location of these unmarked, underground pipes is another story. Despite resident requests, PG&E refuses to release maps of pipelines, claiming the locations could become targets for terrorists.
The scene of the fire was opened up this past week to residents, allowing them to return to their homes to assess damage and gather clothes and other necessities.
Details will continue to come out in the upcoming weeks as reconstruction begins and victims return homes.
(Visited 647 times, 1 visits today)