Editor-in-chief named journalist of the year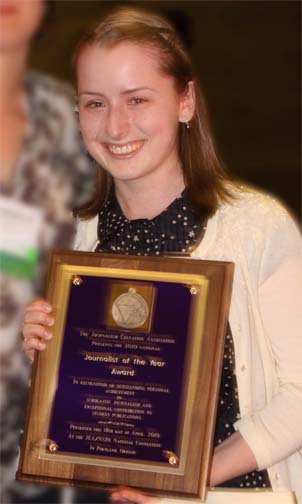 Zoe Newcomb
News Editor
The Journalism Education Association has named senior Ina Herlihy the 2010 High School Journalist of the Year at the JEA/NSPA Spring Convetnion in Portland, Ore. on April 18.
Herlihy submitted a 42-page portfolio to the JEANC regional contest and continued on to the national competition, beating out the 35 other state winners to receive the title and a check for $5000. Judges applauded Herlihy on a organized and thorough entry, calling her portfolio "one of the most beautiful they had ever seen." As Journalist of the Year, Herlihy will be a speaker and lead a session at the 2011 spring convention in Anaheim, Calif.
"I couldn't really believe it when the called my name, it was so surreal," said Herlihy. "When the judges read the bios of the runners-up, I was sure I was one of them, because they sounded exactly like me. It was a shock when they announced that I was the winner."
Since joining the broadview staff her freshman year, Herlihy has won national awards for both her writing and photography, and is featured in a 2008 edition of the Communication: Journalism Education Today (C-JET) magazine. Herlihy has worked along the professional press, photographing everything from concerts with major musical artists like Taylor Swift to political fundraisers and stump speeches, becoming one of the few high school journalists to receive press credentials for the 2009 inauguration of President Barack Obama.
"I've worked hard really hard for this," said Herlihy, who plans to attend Scripps College in the fall. "It is a dream come true."
More information about Ina Herlihy can be found on her website http://www.inaherlihy.com.
(Visited 214 times, 1 visits today)