Time for track
Spring sports to start this week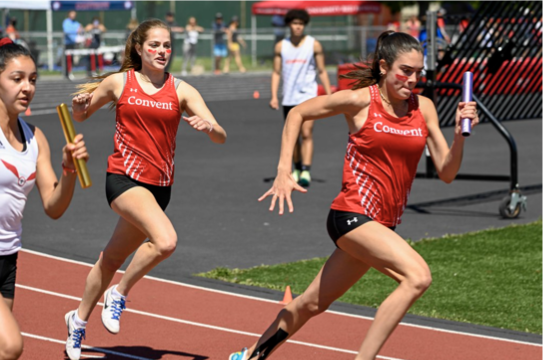 As a part of the 2023 spring sport season, track and field begins today. All Convent & Stuart Hall students are invited and encouraged to participate in this daily after-school activity, regardless of their previous experience. 
"I think it's really important to get your community, support system and values set first, and success will then follow," said track and field coach Michael Buckley. "We work really hard on creating a community on the team that is disciplined and responsible but also welcoming — if you get those aspects in the right space, athletes will be supported and prepared for the work ahead of them,"
The track and field team practices 6 days a week, Monday-Friday from 3:30-6p.m., alternating between the Pine Octavia campus and the Kezar track — and 8-10a.m. on Saturdays for distance runners. There are multiple coaches within the program who dedicate their time at Convent & Stuart Hall to helping athletes improve across the course of the season according to sophomore Anika Carpenter.
"This will be my second season of track, and I'm excited to come back with all the coaches and students," Carpenter said. "The entire environment around track and field is just so great to be a part of — with people across grades supporting and welcoming each other,"
For many of the students joining the track and field community, it may be their first time in this type of environment. Incoming athletes who are new to the sport will be welcomed by past athletes, regardless of their experience, according to freshman Ella Patzer. 
"This would be my first time doing track officially — I did it in middle school for a little bit but I wouldn't really count that," Patzer said. "I know others who have done track in the past, and they are the ones who really convinced me — it hasn't even started and they are already so welcoming to me,"
Other spring sports like beach volleyball, boys volleyball, lacrosse, and swimming also begin practices this week. Some students, like freshman Abigail Quigley, aren't sure which sport they will be doing this spring.
"I'm still not sure what spring sport I will do," Quigley said. "I know a ton of freshmen are doing beach volleyball, but track also sounds really fun,"
The track and field team hopes to create a positive environment that aids individual as well as team development, according to Buckley.
"What I'm hoping to create is a team that wants to be at practice because they love each other, they love the sport, and they're having a good time," Buckley said. "But also an environment where we channel all this enthusiastic energy and positivity into their own development– which aids the team in the end."