Yerba Buena Center for the Arts features the Global Lives Project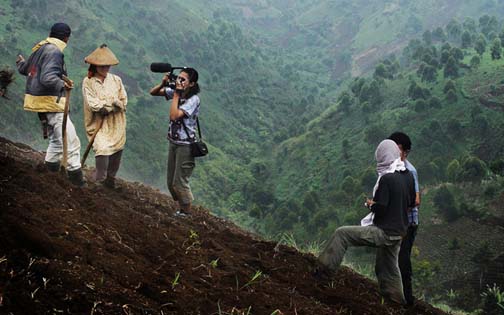 Meghan Helms
Asst. A&E Editor

Twenty-four hours of the lives of 10 ordinary people from across the globe, chosen to roughly represent the entire human population by age, sex, income and dwelling are on exhibit at the Yerba Buena Center for the Arts in the premier showing of the Global Lives Project. </p>
Global Lives is a coalition of over 500 volunteer filmmakers, designers, artists and everyday people from around the world who set out to build a video library of human life.
The rawness of the videos and ordinariness of those being filmed makes the exhibit surprisingly relatable to the viewer. A 5-year-old girl in Kazakhstan practices writing her numbers in one section of the exhibit while an 18-year-old tour guide in India dozes under a tree, all such normal and even mundane happenings that they are refreshing to witness at a museum. </p>
One of the most defining features of the exhibit is the set up of the tiny exhibit crammed into a small room bursting with sounds and images from around the globe. Seven LG screens and three projections are surrounded by small scaffolding structures whose design reflect the environment in the video. Woven walls and mats make up the scaffolding surrounding the screen showing a 32-year-old woman's life in a rural Indonesian village where buildings are made of the same materials. </p>
Not only does the exhibit offer a unique insight on 10 ordinary people and their lives, but it also gives light onto the countries they live in. The smaller back streets of Beirut, Lebanon are explored by a young girl walking home from her dance lesson, containing grime and dinginess that would most likely not be seen by the average tourist.
The children of the project are the most interesting to watch due to their fascination by the camera. A young boy in Lebanon shows off his yo-yo skills and a girl in Kazakhstan plays with her pet cat. </p>
The display exhibits the most basic parts of human life, eating, sleeping and thinking across the globe in a unique and intriguing way that makes the exhibit a pleasure to attend. </p>
Global Lives Project is on display Tuesday through Sunday until June 20 with $5 admission for students. For more information, visit http://globallives.org/ or http://www.ybca.org/.
(Visited 103 times, 1 visits today)