Students gear up for Halloween by donating blood
Blood drive to be hosted in late October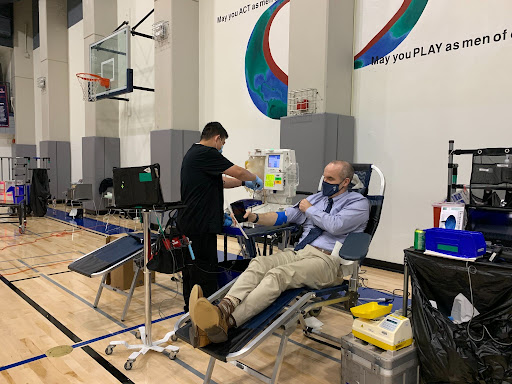 In partnership with the health non-profit Vitalant, students will have the opportunity to participate in a blood drive on Thursday, Oct. 27. After participating, each student will receive 10 service hours for their donation. 
The drive will take place at the Pine & Octavia gym and will be open from 9 a.m. to 1:45 p.m.. Students are encouraged to make an appointment in advance, which will affirm  appointment time and donation type (whole blood, power red, plasma, platelets, source plasma).  
"If you can't donate, you can ask a family member or friend who goes to another school to donate in your name," sophomore Sohie Levy said. "And you'll get two service hours for them," 
Vitalant is organizing the blood donations in collaboration with Convent & Stuart Hall representatives Head of School Tony Farrell and sophomore Amrita Rajpal. Vitalant specializes in collecting blood from volunteer donors. 
"I'm planning on volunteering for the blood drive because you get a lot of service hours for it," junior Alex Chua said. "You also get time off class and get to give back to people in need," 
Students are required to bring photo identification with first and last name to the Blood Drive and should be hydrated and well-nourished. They are also required to review blood donor qualifications — such as age and good health prior to making appointments. 
"The blood drives occur every three months," Levy said. "It's structured that way because donors' bodies need time to recover,"
In exchange for their time, students will receive up to 10 service hours if they donate, as well as two hours for every adult that donates on their behalf.
"I really recommend anyone eligible to participate in the blood drive," Levy said. "It's an easy and totally free way to help others."