The state of the state
Biden addresses pandemic, inflation and Ukraine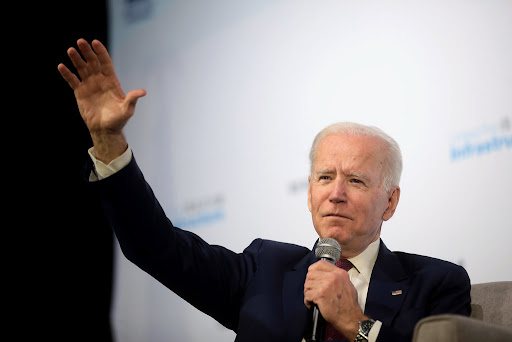 WEB EXCLUSIVE | As the pandemic persists, U.S. inflation rises and Russia moves into Ukraine, American citizens tuned in to last night's State of the Union to hear how President Joseph Biden intends to address these developments.
In his speech, Biden stated that the U.S. is safely returning to pre-pandemic normalcy as the vaccination rate reached 65% nationally and cases decreased by 43% from last week, according to the Mayo Clinic. He also affirmed that he will continue to support Ukraine in the hopes of reaching a peaceful resolution with Russia. 
"I feel like the State of the Union kick-starts conversations about what is happening in the world which is really important since so much is going on at the moment," sophomore Seda Perry said. "After watching it, my parents and I had a conversation about what is happening in Ukraine, which I think is important to recognize." 
On Feb. 24, Russia officially declared war on Ukraine. In response, the North Atlantic Trade Organization (NATO), sent supplies including missiles and medicine to Ukraine. The US additionally placed sanctions on Russia, such as restricting Russian air travel in NATO airspace and cutting off the Russian central bank.
"I watched the State of the Union with my family because I'm taking a Global Politics class but also because I think it's just important to stay updated on this type of thing," junior Emma Cameron said. "It helped me better contextualize the conflict between Russia and Ukraine as well, which we have been discussing in class quite a bit." 
Yesterday, Russia bombed a television tower in the Ukrainian capital Kyiv, according to CNN.  498 Russian troops have died as well as 2,870 Ukrainian troops and over 2,000 Ukrainian civilians, according to NPR.
"We've reached a new moment in the fight against COVID-19, with severe cases down to a level not seen since last July," President Biden said in the State of the Union. "Thanks to the progress we have made this past year, COVID-19 need no longer controls our lives."
The consumer price index increased 7.0% from December 2020 to December 2021, its highest rate in nearly 40 years. To stop this extreme rise in inflation, Biden plans to grow the U.S.' manufacturing capacity, make supply chains faster and put less pressure on workers. 
"I'm worried about inflation and my cost of living in the future if it continues to increase at this rate," Perry said. "I found it reassuring to hear that President Biden is putting plans in place that will address things like inflation and the situation in Ukraine."