IB Seniors visit Asian Art Museum's teamLab: Continuity exhibition
Immersive experience prompts reflection on interconnectivity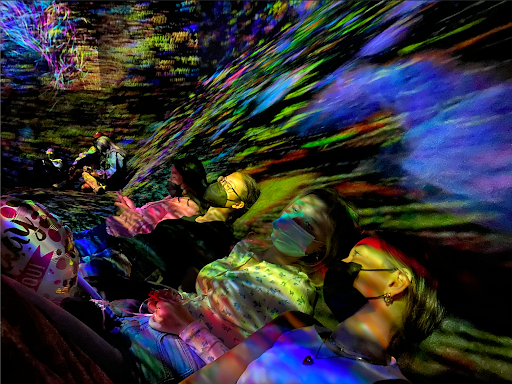 WEB EXCLUSIVE | Students in IB Visual Arts visited the Asian Art Museum's teamLab: Continuity exhibition during the F block Learning Lab on Monday. 
The exhibit was created by teamLab, a Japanese art collective and interactive design corporation that uses digital technology to create contemporary art. The Asian Art Museum is the second institute in the U.S. to host teamLab. 
"The vibrant colors of the walls, music and projections made it feel like another world," senior Madison Wong said. "The exhibition helped to clear my head, especially with the stress of school."
Visiting exhibitions is a part of the International Baccalaureate Diploma Programme's visual art experience, according to Visual Art Faculty Chair Rachel McIntire. This is the first time students have travelled to an exhibition together since the beginning of the COVID-19 pandemic. 
"It is an incredible show that presents art in a way that students may not have interacted with before because it is very immersive," McIntire said. "I chose to take my students because the museum opened after being closed for so long." 
Students interacted with the exhibition by touching the walls and contributing drawings that became a part of the projections displayed. The work uses digital tools to transcend the boundaries of traditional art. 
"I really enjoyed coloring a fish and watching it become a part of the exhibit," senior Olivia Williams said. "It was satisfying to contribute even in a minor way and fun to see it appear on the walls." 
The work encouraged viewers to reflect on ways they are interconnected with the world and those around them, according to senior Olivia Williams. The exhibition is open until Nov. 29.
"I loved seeing how technology and art came together," Wong said. "It was a nice way to end an afternoon."