The return of homecoming
Homecoming weekend activities restore school spirit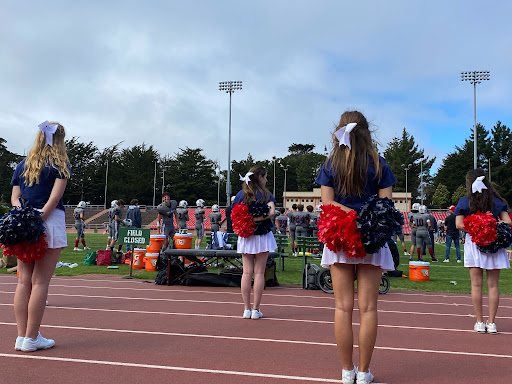 WEB EXCLUSIVE | After a week full of spirit days, sports events and school spirit, the school community reflects on a refreshed homecoming experience. 
The varsity volleyball game against Lick Wilmerding High School kicked off homecoming weekend. To support the team, all students were invited to watch the livestream from Syufy Court, according to an email sent by Head of Athletics & Physical Education Dana Kuwahara.
"Before the volleyball game started, I thought all students had to stay outside on Syufy, but it was really cool how the coordinators of the event rotated students from the field into the gym to watch the game live," junior Melanie Koch said. "I hadn't been able to go to any of the volleyball games since my freshman year, so I really appreciated being able to watch them win in person."
Following the volleyball game, the Stuart Hall High School football team played their homecoming game on Saturday against Woodside Priory School. This game also marked the cheerleading club's first performance, led by juniors Amaliya Sypult and Ella Noblin.
"Going into the game we had only practiced for a week, but we learned so much in that time period," Sypult said. "I had a lot of people come up to me after the game saying that they liked our performance which was really encouraging given that it was our first time cheering together."
Throughout the week, a group of students from each grade worked together on a "grade banner" which were presented at the football game's halftime show and ranked by fans. 
"My favorite part of the game was the banner competition because it was really cool to see the school spirit that went into it," freshman Natalie Nakashita said. "It was also fun just hanging out and being social during the game."
Being engaged with the school community by going to games and social events has been difficult due to COVID-19 and revisiting these traditions has revived school spirit and camaraderie, according to Koch. 
"This was very different from my freshman year because there was a lot of build up to the homecoming games because we haven't had an event like this in so long," Koch said. "It was so awesome to see a lot more of the school community showing up and a mix of students from all grades."
Disclaimer: Ella Noblin is a member of The Broadview staff.