Youths to staff polls
COVID-19 fears keep older workers at home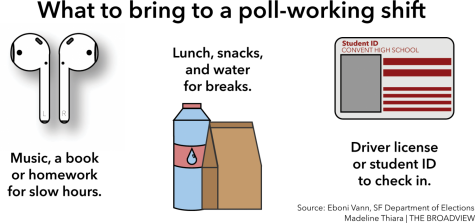 San Francisco youth will help staff 588 polling places for Election Day on Nov. 3 as senior citizens, who generally make up the majority of poll workers, are unable to work during the pandemic.
The Centers for Disease Control and Prevention recommend older adults self-isolate due to an increased risk for severe illness from COVID-19. Adults over 60 usually make up 60% of poll workers.
"Since I'm 16 and can't vote, it's nice to feel like I am playing a part and getting involved in our democracy and voting system, especially in this year's election," junior Elizabeth Mullen said. "It will be really interesting to see how a polling station works, because I had never been to one before."
The Department of Elections received 500 to 600 high school applicants to work at the Presidential and General Election polls. Four to five workers, including one inspector, usually staff each polling place. Two adults must be present and the others can be high school students.
"Our main priority is to get as many high schoolers to serve on election day as possible," Eboni Vann, of the poll worker division at the San Francisco Department of Elections, said. "We want to give them that experience and it is something we encourage them to put on their resume." 
Vann's team used to visit schools to recruit high school students before the coronavirus pandemic, but is now sending promotional videos out to students.
"Given the circumstances, we were nervous about making our numbers, but the number of applicants is higher than other years because many people really want to get involved in this election," Vann said. "For this election, I foresee that we will have all of our polling places fully staffed as we have had an abundance of applicants that would like to participate."
The majority of voters who will go to the polls on Election Day will be dropping off their vote-by-mail ballot, as opposed to voting at the polling place, according to Vann. The California Secretary of State urges voters to use their vote-by-mail ballot as it is the safest option.
"Regardless of who someone is voting for, voting is super important and I want to be part of that process," senior Eloise Laluyaux said. "When I was applying online, there was a big notice at the bottom of the webpage that said it was likely that poll workers would contract COVID-19, which makes me a little concerned."
Each polling place will be equipped with personal protective equipment including gloves, surgical masks and other sanitizing equipment, according to Vann. The poll workers will be on a cleaning schedule and they will sanitize all voting materials every 30 minutes.
"It is a wonderful thing to be part of the electoral process whether you are 16 or 60," Jennifer Kriz, Mullen's mother, said. "I don't have any concerns with Elizabeth working at the polls during COVID-19 as long as she wears an N95 mask and possibly gloves."
Every poll worker must take an online training to learn about voters' rights, voting equipment, the voting process and new health and safety procedures. 
"The online training included a lot about staying safe with COVID-19 and cleaning protocols," junior Devon Carlson said. "I am a little nervous about working at the polls because there is a lot of information and training to remember."
California counties are required to offer disposable masks to all voters, however, masks are optional because citizens can not be refused their right to vote, according to the California Secretary of State. Poll workers may ask those who choose not to wear a mask to use a voting station that has increased physical distancing.
"Even though I will be interacting with a lot of people at the polls, I feel like I will be pretty safe as we will follow social distancing and constantly be sanitizing items used by voters," Mullen said. "Overall, I think that this will be a great learning experience for me and will show me how the voting process works."