Trump and Biden gather in Ohio for the first presidential debate
Presidential candidates go at each other's throats, creating a chaotic spectacle
President Donald Trump and former Vice President Joe Biden took to the stage in Ohio last night for the first presidential debate, but spent so much time interrupting each other that it was challenging for viewers to gain an understanding of their stances.
Over the course of an uninterrupted 90-minute debate, the candidates continually argued and cut each other off. Some political commentators said there was so much conflict between the two that the event was a "dumpster fire."
"I've already made my mind up about who I'm going to vote for, but the debate didn't make me any more confident," senior Harriet Richie said. "It became really personal and didn't have a lot to do with the American people in general."
Many students made it clear that they saw one candidate being more aggressive than the other and that this prevented an even conversation.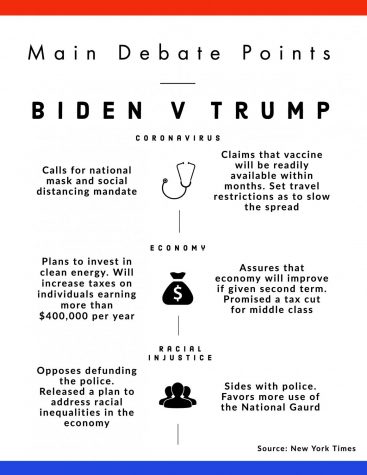 "Biden was really overpowered by Trump, who was consistently interrupting him," sophomore Chiara Hertsgaard said. "He also started talking about Biden's son, which I thought was unnecessary and way too personal but Biden handled things really well."
Trump took swipes at Hunter Biden's drug problem, even after the elder Biden said he was proud that his son had overcame his addiction, "like so many other Americans." 
Both candidates made claims that were not necessarily fully backed up by concrete evidence, according to history teacher Bruno Vetter. 
"The moderator was put into a position where he basically had to yell at the president," Vetter said. "As a teacher, what does that say about how you should talk to someone who you disagree with?"
In his closing remarks, Biden urged Americans to register and be sure to vote on Nov. 3. Californians can register to vote through Oct. 19.
"I feel like Trump has so many voters that will vote for him without a doubt," Herstgaard said. "The most important thing right now that Biden emphasizes is that you need to register and get out there and vote, if you can."
Some seniors will vote for the first time this November. 
"I thought it was unprofessional on both sides," Ritchie said. "But I will be voting in the upcoming election and think it is important for everyone who can to do so."