The death of Justice Ruth Bader Ginsburg prompts national controversy
Students, teachers react to the prospect of a Supreme Court Justice nomination before the upcoming election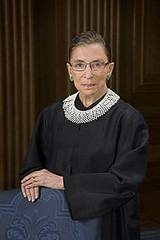 WEB EXCLUSIVE Supreme Court Justice Ruth Bader Ginsburg passed away last week, leaving a vacant spot on the bench, prompting many to mourn the loss and sparking the debate as to whether the nominee for the lifelong position should be chosen before the presidential election.
In a note to her granddaughter, Ginsburg wishes to not be replaced until the next presidential term. Despite this, Trump announced he will appoint the new Supreme Court Justice nominee Friday or Saturday after the memorial services for Ginsburg conclude, according to an interview on Fox and Friends. 
"There is a set precedent on what procedure should be and from what I understand about the law, it tends to follow precedent," senior Lili Levy said. "It's now the responsibility of the Supreme Court in our justice system to observe that precedent and respect Ruth Bader Ginsburg's wishes." 
If the Senate approves the nominee there will be more justices with conservative affiliations. The liberals would have a 3-6 minority in the Supreme Court. President Trump says he narrowed down the list of potential nominees to five women but he only named two: Judge Amy Coney Barrett and Judge Barbara Lagoa.
Following the death of Justice Antonin Scalia in 2016, Obama nominated Chief Judge Merrick Garland to fill the vacant slot. At the time, Senate Majority Leader Mitch McConnell stated that they should delay the appointment until the next presidential election.  The country is now facing a similar situation following the death of Justice Ginsburg. 
"In my opinion, the nomination needs to wait until after the election," sophomore Takouhi Asdorian said. "Not only was it Ruth Bader Ginsburg's last wish but it also is also more fair to the precedent set by the Republicans before, regarding Obama's potential nomination." 
Trump announced that his nomination will be a woman at a campaign rally on Saturday night. 
"It seems incredibly hypocritical for the same people who believed it was a problem to nominate a Supreme Court Justice during an election year to go back on what they said," history teacher Anne Porter said. "We're in the middle of a crisis in faith in politics and it is causing people to lose faith in politicians."
Nine Justices make up the Supreme Court and serve a lifelong term.  The upcoming nomination will determine the political future of the Supreme Court for many years to come. 
"I don't think there's any reason to host the nomination now," Levy said. "I think it should wait until whoever is elected because that is the president and that allows for due respect paid to, in my opinion, one of the most influential women in the past century."
(Visited 526 times, 1 visits today)