Watch out Earth, holidays are coming
Travel, waste put strain on environment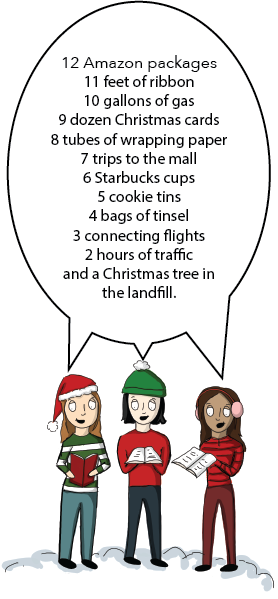 While giving gifts is on almost everyone's mind this time of year, the environmental impact of waste over the holidays often gets neglected.
Americans throw away 25% more waste between Thanksgiving and New Years than they do any other time of the year, and an extra 3.5 metric tons of carbon dioxide is produced in the United States during the holidays, according to a study at Vanderbilt University. 
"It's so important to be extra environmentally aware over the holidays because of how much extra pollution there is," Students in Action Environmental Representative Cristina Jackson said. "It's important not to forget the consequences of polluting the environment."
Simple ways to avoid unnecessary waste include sending electronic instead of paper cards, using reusable or recycled gift wrap such as newspaper or cloth, avoiding gift bags and ribbons and consolidating Amazon orders. 
"People aren't focusing on how much waste they are producing because they are more concentrated on celebrating the holidays," EcoFriends club co-founder Madi Lerseth said. "The environment is not going to be fixed overnight. It's a process that takes time, so it's important to remember that everyday we should focus on fixing the small issues because in reality the small things make a difference."
Christmas trees make up a large portion of holiday waste, with more than 30 million people in the United States buying a Christmas tree each year according to the National Christmas Tree Association. Eighty percent of Americans have artificial Christmas trees, which, if reused for more than five years, are more environmentally friendly than throwing a real tree away every year.
To avoid Christmas tree waste, Recology collects trees that are undecorated and placed next to a blue recycling can before 6 a.m. on the day recycling is normally collected during the first two weeks of January. Repurposed Christmas trees will be turned into mulch for landscaping in San Francisco parks.
"Recology CleanScapes will collect natural, undecorated, unflocked trees in 4-foot lengths from customers who subscribe to every-other-week food scraps & yard debris collection," according to the company's website. "No special arrangements are necessary; just put your tree curbside on your regular food scraps & yard debris collection day."
The environmental impact of the holidays goes beyond the material waste. The holiday season is the busiest travel season of the year in the United States, with the average person traveling 214 miles for Thanksgiving and 275 miles for Christmas and New Years, according to the U.S. Bureau of Transportation. 
"I think that right now there's not a lot of knowledge about how impactful travel is on the environment," senior Isabelle Paul said. "My family took a road trip to Death Valley instead of flying across the country this year for Thanksgiving because we are making an effort to take less planes in order to reduce our carbon footprint."
An individual's carbon footprint is the emission given off by where they go and what they consume, measured by total release of carbon dioxide. Taking non-stop flights, traveling light or offsetting the emission of flights through websites like Gold Standard, which fund projects to offset carbon emissions, are ways to be more conscious of carbon footprint year round and especially during the holidays. 
"Getting out in the community and volunteering for the environment around the holidays is a good way to help make up for the negative environmental impact of the holidays," Jackson said. "But it's also important to remember that caring for the environment should be something we focus on year round."