Exhibit illustrates black rights
"Art in the Age of Black Power" showcased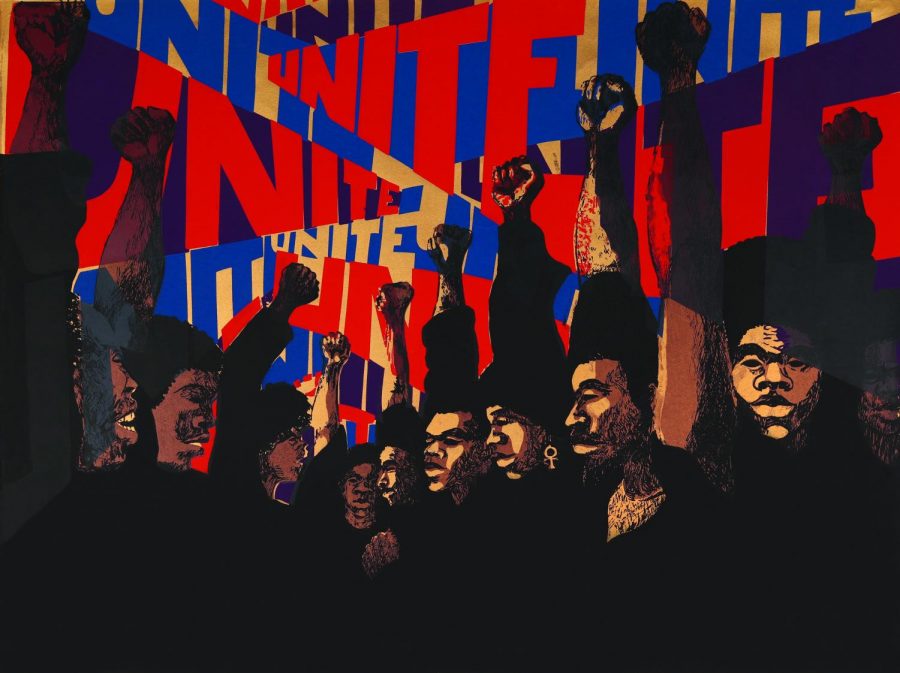 Fists raised above heads and stark photography of African Americans are central to "Art in the Age of Black Power," an upcoming exhibit at the de Young Museum that celebrates Bay Area black artists whose work pushes for social change.
"Art in the Age of Black Power" showcases African American artists from the 1960s through the 1980s, when race and identity took over America, according to the de Young. 
"The exhibit is featuring African Americans artists' works for the 20 years post-civil rights," art history teacher Sarah Garlinghouse said. "It is looking at different African American artists' depictions of African American culture and rights."
The exhibit directly correlates to the height of the civil rights movement, which commenced in 1954, and includes one of the Emory Douglas' Black Panther's Party's ministers of culture, graphic art issued in the newspaper "The Black Panther."
"Art depicts the way people in the culture see themselves," senior Ryann Minnis said, who is a member of the People of Color Student Union, a club focusing on the voices of people of color. "It is a way to hide deeper meanings and only the people who are ready to progress will understand the hidden meaning."
The reclaiming of racial roots is perceived through the artwork, as photographers such as Roy DeCarava depict ordinary African Americans living amidst racism.
"It's important for all voices to be heard so we can learn the true stories to get a better understanding of different cultures," senior Sophia Aeby said. "This exhibit shows how we can also learn how history affects art in a variety of cultures." 
Art of the pre-civil rights movement was dominated by a Western and European presence, lacking perspective from African Americans, according to Garlinghouse. 
"Art mirrors culture, and without artistic expression looking at events in our country and in our world we lose a lot of different interpretations of things that are going on," Garlinghouse said. "For a long time art was focused on Western history, and generally white male artistic interpretations of the world, so it is important to start looking at art from a variety of different artists globally and multiculturally."
"Art in the Age of Black Power" began in London, organized by Tate Modern. It moved to the Brooklyn Museum, the Crystal Bridges Museum in Bentonville, Arkansas, and The Broad in Los Angeles before arriving at the de Young. 
"As you know, I attend a predominantly white school, and I felt that a lot of students of color don't have a space to talk about their voice," Minnis said. "POCSU was created so everyone can all have a space to come together and talk about issues they may have with the community as we are just trying to open everyone's mind to that there are more cultures out there." 
Pieces such as Barbara Jones-Hogu's 1971 Screenprint "Unite," display the spread of empowering messages to people, and the initiative many people took to stand up for justice.
"We should all go and see works from different cultures and genders, in order to see different perspectives and also just to see something new," Garlinghouse said. "We may be familiar with some artists' traditions, but it is important to see other interpretations."
"Art in the Age of Black Power" opens Nov. 9. and runs through March 15. Admission for students is $16 for students with a valid ID and $25 for adults. 

(Visited 44 times, 1 visits today)