Power outages prompt preventative measures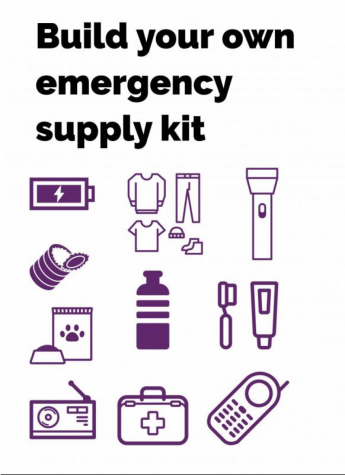 WEB EXCLUSIVE In the midst of the California fire season, along with the recent power outages, families are preparing to protect themselves from natural disasters such as earthquakes and wildfires. 
According to The New York Times, the Pacific Gas & Electric Company has shut off power for over 600,000 customers in Northern California, which created a wake of urgency for families to start paying attention to preventative safety measures. 
The initial power outages, which affected many homes in the East Bay and Marin, were initiated Wednesday and Thursday in order to prevent equipment from catching fire as a result of high winds and dry air.  
"It's been really stressful because fires are unpredictable and spread so fast with our wind," sophomore Anneli Dolan said. "My dad spent the night in Sonoma because he was worried about our property which could be affected."
As a precaution, PG&E will be deploying workers to check main power lines which could take up to five days, according to The New York Times, leaving thousands of Californians without power. But in the meantime, families can take precautions in order to be ready for any natural disaster. 
"Determine if your landline will work during an outage. Keep a mobile phone as a backup," according to the PG&E website. "If you have a generator, make sure it's ready to operate safely and have flashlights available for your household. Avoid using candles."
By following these guidelines, families can reduce the likelihood of fires and be adequately prepared in case of an outage or any natural disaster, like an earthquake.
"My family has an emergency kit with some basic provisions like a change of clothes, radios and walkie talkies," junior Kate Baker said. "We also have a kit for our cats as well, with food and a little crate." 
These emergency supply kits are frequently used resources for families in order to establish a concrete plan in case of a crisis or disaster, in addition to making them feel safer and more prepared. 
"Prepare an emergency supply kit. Include enough water and non-perishable food to last your household one week. Be sure to refresh your kit once a year," PG&E said. "Keep cash on hand and a full tank of gas."
With the fires continuing to persist, it is unknown how long the power outage could last, so it is recommended that families prepare accordingly by building emergency supply kits, getting informed through fire departments and regular updates from media.
"My family was hit by the fires two years ago so we are a bit nervous," Dolan said. "But we have an emergency plan where we have a meeting spot just in case."