Victorian fair brings Christmas past to present day
A replica of Victorian-era London comes to life with carolers, roasted chestnuts, and theatrical costumes in an experimental world that allows visitors to dress up, play along, or come in everyday 21st-century dress.
The Great Dickens Christmas Fair is filling the Cow Palace exhibition space in an annual Bay Area tradition.
"It was a really immersive experience," sophomore Halsey Williamson, who visited the fair, said. "The hundreds of people in costume who played these characters made the day 10 times more enjoyable."
The holiday tradition dating back to the 1970s allows visitors to explore 19th-century London while eating traditional food, shopping and seeing live reenactments of Charles Dickens' greatest literary works, such as "A Christmas Carol."
"I learned that sometimes it's good to do something for the sake of fun," junior Ella Beard said. "It was amazing how many people were using British accents."
Visitors can send telegrams, feast at one of the restaurants on Pickwick Place, take dance lessons at Fezziwig's Dance Party, and watch musical performances at Victoria & Albert's Music Hall.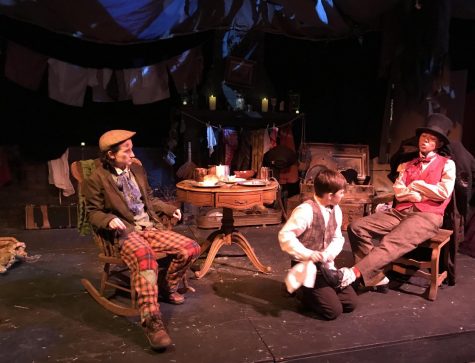 Sophomore English teacher Rachael Denny says she encourages her students to visit the fair since her classes will read Charles Dickens' "A Tale of Two Cities."
"The Dickens Fair gives you the best understanding of the time period in which Charles Dickens was writing," Denny said. "To have a moment to experience life as he experienced allows you to better understand the authors' writing."
"I felt like I had been transported back to London," Beard said about her visit last year. "There are so many activities and costumes that people put so much effort into. That made the experience really magical."
The Great Dickens Christmas Fair is open every weekend at the Cow Palace through Dec. 23, 10 a.m. to 7 p.m. Tickets are available online or at the door, $30 for adults and $18 for children under age 12.
"I would definitely go back next year," Williamson said. "There was so much to do, and I feel like I barely scratched the surface in the three hours I was there."