Teachers awarded during annual ceremony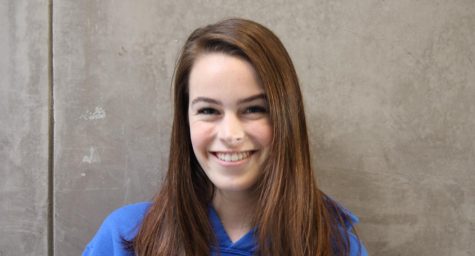 More stories from Caroline Thompson
WEB EXCLUSIVE Two Convent teachers received awards as an acknowledgment of their contributions to the community during the Annual Faculty Awards ceremony yesterday.
Visual Arts Department Chair Rachel McIntire received the Ellie Fusco Award for Excellence in Education, and Spirituality Department Chair Paul Pryor-Lorentz won the Esther Rossi Goal 4 Award.
"It's similar to the ceremony at the end of the year where students get awarded for things that go beyond academics," Spanish teacher Riki García-Rebel said. "There are seven different awards given to the faculty for different types of excellence, for example, the Esther Rossi Award is for community development."
García-Rebel is head of the Faculty and Staff Development Committee, the group that decides on the recipients of the awards. The committee consists of one representative from each school division, one representative from central services and President Ann Marie Krejcarek.
"The committee's job is to organize and discuss each potential candidate but every award winner is chosen differently," García-Rebel said. "The Rossi Award recipient is nominated by anonymous submissions from the faculty of all four schools whereas for the Niehaus Family President's Award for Excellence it's solely Dr. Krajcarek's decision."
Faculty members from all four divisions and Central Services are eligible for various awards.

"Yesterday felt like the perfect day to get that award," Pryor-Lorentz said. " I started the morning with young Stuart Hall boys in their chapel ,then I had my classes at both high schools and in the afternoon I lead an Espacio with Central Services. In the past few years, I've done a lot to align all of the divisions into a true K through 12 school, and to do that it's important to create a strong community with shared visions of what our school is and can be."
Pryor-Lorentz's award  does not only reflect his engagement within the wider community but also the atmosphere he creates in his classroom, according to junior Sophie Mack.
"We have a lot of class discussions and Mr. PL really pushes us to guide the conversation with our own ideas," Mack said. "He is a teacher that truly creates an environment that allows students to express their opinions and feel supported when they share."
The first Rossi Award was given in 1995, and since then it has become a highly respected annual tradition, according to Pryor-Lorentz.
"When I first started teaching here in 2008 I watched a teacher I really admired receive the Rossi Award, and I remember thinking what an honor it is to be recognized by the community in that manner," Pryor-Lorentz said. "Winning the award myself was a wonderful affirmation that I've been doing good work during the 11 years I've been here."
Leave a Comment