Up in smoke
New form of nicotine consumption poses health hazards.
Despite the Surgeon General's Warnings on packs of cigarettes and anti-cigarette campaigns, many young smokers are starting nicotine habits through JUULs, a type of e-cigarette available in multiple flavors.
"I was at my friend's birthday dinner and a bunch of people were in the bathroom and they had a JUUL," a Bay Area prep school student, who wishes to remain anonymous, said. "All my friends had used a JUUL before and I had never used one. They said it was to get the head rush so you can feel dizzy
for a couple of seconds."
JUUL devices are comprised of two parts — the aluminum shell and replaceable JUUL-pods, which contain JUUL-salts, an e-liquid based on nicotine salts found in the tobacco leaf that match cigarette strength nicotine levels, according to JUUL.
Due to its unique heating system, a JUUL produces fewer carcinogens than cigarettes and other brands of e-cigarettes, according to an independently funded study conducted by researchers at Portland State University, initiating the claim that JUULs are a "healthier alternative" to other nicotine products.
Comparable to other e-cigarettes, JUULpods are sold in various flavors including Virginia tobacco, cool mint, fruit medley, creme brulee and mango. The level of nicotine inone pod is equivalent to one pack of cigarettes, according to JUUL.
"One pod, depending on the person, lasts a different amount of time," the student said. "For me, I'd say one pod lasts a week and a half to two weeks. Some people I know go through a pod a day."
Like other drugs, the younger an individual starts using nicotine, the more likely she will become addicted to it, according to family practice physician Mitika Kanabar, who is board-certified in addiction medicine.
"From teens to around age 24, your brain power to make decisions is still developing, Kanabar said. "If you expose your brain to substances, then it doesn't develop the way it's supposed to and you become predisposed to developing an addiction."
Addiction can also stem from equating the use of substances to daily habits.
"The more you associate smoking with particular daytime activities, the more likely you are to become addicted to any substance, nicotine in particular," Kanabar said. "'I walk my dog and I vape' — that's one of the stories I often hear."
Immediate effects of nicotine use include an increase of blood pressure and heart rate, but nicotine can also cause long term effects such as heart disease and chronic obstructive pulmonary disease, and even micro problems in the brain that can impair memory and cognition, according to Kanabar.
Because nicotine is highly addictive, withdrawal symptoms like irritability, anxiety and difficulty concentrating can come quickly and be extreme.
"I have friends who, if they are away from their JUUL for more than an hour or two, start getting really jittery and they start sweating," the student said. "They can't stop talking about it and how much they need it."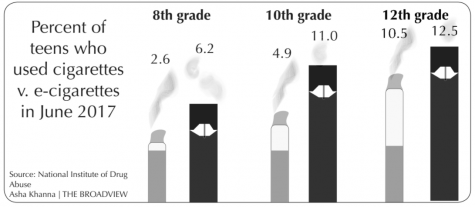 On top of the health issues associated with nicotine, packs of JUULpods can run upwards of $20 or $30, making JUULing a pricy habit.
"I own a JUUL, but it is really expensive," the student said. "I only use it when I go to parties. I have a fear of getting really addicted to it so I make sure it's away for the entire week and then on weekends I use it, but I know people who just use it alone at home."
Advertised as a "smoking alternative" that is "intended for adult smokers who want to switch from combustible cigarettes," federal law prohibits persons under the age of 21 from purchasing JUUL products, but this has not stopped teens from obtaining them.
The compactness and look resembling a USB flash drive make the JUUL easy to use discreetly, according to the student.
Addressing rumors that students were using e-cigarette devices at school, Head of School Rachel Simpson recently made an announcement condemning vaping during Chapel, stating that it was against school rules.
"Possession or use of illegal substances is not tolerated on the school campuses or at school sponsored functions," according to the High School Student Handbook. "Similarly, a student's use of these substances before or after the school day or school activities is not tolerated, and students may not attend any school event while under the influence of substances."
For those looking to quit smoking or vaping, Kanabar suggests asking for help as a first step, as often only 3 to 6 percent of teenagers are successful when trying to quit by themselves.
"I'm getting rid of [my JUUL] after I finish my last[JUUL]pod," the student said. "It's just so expensive and I feel like there's no real reason to do it other than it's 'cool' right now. In five years, people will probably just think it's dumb — and it's bad for your health."