All hands in
Pregame rituals help to strengthen team bonds.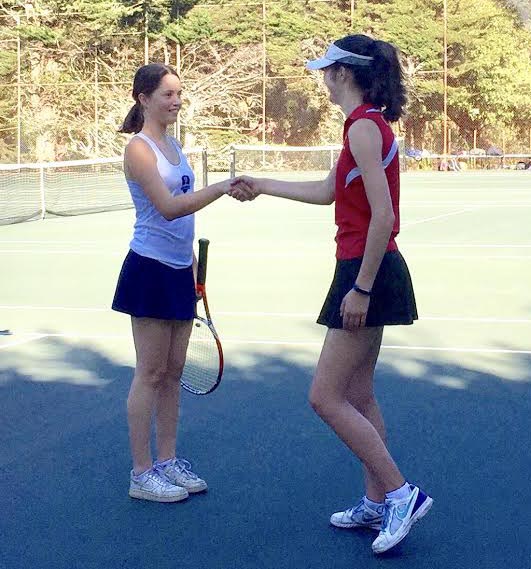 Before every regatta, junior Camilla Sigmund joins her rowing team in a pre-race ritual, taking three deep breaths and passing a handshake from one team member to the next along the side of the boat.
Rituals, the different actions completed around a meaningful event, not only have practical results or superstitious connotations but have also been scientifically proven to benefit those who perform them regularly, increasing attention and confidence or creating a shared, team identity, according to Scientific American.
"Since my Freshman Year on the basketball team, there has always been a huge focus on team bonding and encouragement before games," junior Kiki Apple said. "Routine events help us find that team sportsmanship. When we get dinner before late games as a team, we are reminded that we are one with a common goal and to work as a united force."
Rituals can prompt emotions and assist athletes to remember the goals of the game so much so that successful coaches most often require their teams to find customary routines of their own, according to the Harvard Business Review.
"Our coach really respects our cheers and time before the game as just players," volleyball co-captain Bella Shea said. "He leaves the room so we can stand together as just players while we reinforce our aims for the game. It's extremely nice knowing he values that."
Research shows that the leaders, whether it be players or coaches, of most high-performing teams take advantage of ritual. In particular, when new groups of people were combined, coaches prioritized finding routines that would benefit all, according to the Harvard Business Report.
Although serious routines do benefit athletes, adding in entertaining routines can be rewarding as well.
"We want to have as much fun together as we can while at the same time pushing for the best outcome in the upcoming game," Apple said. "We all love watching the show [H2O: Just Add Water] together. It unifies us before games as not only teammates but as friends."
Regular routines before games or races help individuals combine into one team and work to strengthen bonds that already exist, according to Sigmund.
"Rituals really allow teams to flourish and meet their highest potential," Sigmund said. "They reinforce that everyone has each others backs and that everyone is committed to winning for and with each other."