Student council elections encourage community involvement
Freshmen, sophomores, juniors and faculty gathered in Syufy Theatre this morning for an assembly where students from all grades lined up on stage to give their candidacy speeches for the 2017-2018 student council positions.
"I chose to run for Equity and Inclusion Representative because they're things I've always been passionate about," sophomore Kate Etter said. "I attended the Student Diversity Leadership Conference in Atlanta last December and it was an amazing experience which prompted me to run."
Student Council received a makeover this year as class presidents and vice presidents were abolished and were replaced with class representatives and all school roles including Spirit Officer, Athletic Officer, Arts Officer, Equity and Inclusion Officer, and L.I.F.E Officer.
"I like the new format of student council because it allows room for more communication between grade levels, but I do understand why some students are upset that we no longer have class presidents." sophomore Amelia Estes said.
A schoolwide Google Form served as the election's ballot. Kiki Apple was elected to be the Athletics Officer and Anna Doggett was elected to be the Spirit Officer. A run-off for the positions of L.I.F.E. Officer and Equity and Inclusion Officer will take place tomorrow.
Due to a lack of time during assembly today, speeches for class representatives and Arts Officer candidates will take place Wednesday, May 24 at lunch in the Center.
"It's nice how there are so many different positions to run for this year," sophomore Emma Hubbard said. "I think it will attract more participation."
Student government is an effective way to get involved in community functions and can teach beneficial life lessons, according to Etter.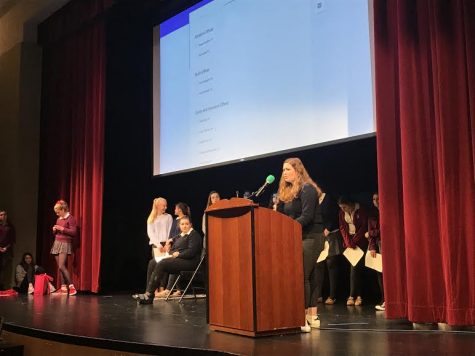 "Student council is a valuable opportunity for students to take leadership roles and I think it's a great way to work on problem solving skills and teamwork," Etter said.