Cubs advance to BCL West finals after beating Marin Academy
WEB EXCLUSIVE
Cubs maul Marin Academy Wildcats in BCL West semifinal game with a final score of 53-32.
Convent's varsity basketball team was undefeated in its league and beat Marin Academy twice this season already.
"I think we know that we can beat them, so that gives us confidence," co-captain Ally Arora said before the game. "It could also affect us in a bad way if are too keen on beating them because we can sometimes play down to their level."
The team started off strong with co-captain Alyssa Alvarez scoring the first basket two minutes into the game. They continued to dominate with strong offense and defense throughout the first quarter.
They increased their lead to 19 points by the end of the 2nd quarter with Alvarez making two points in the last 10 seconds bringing the score to 29-10.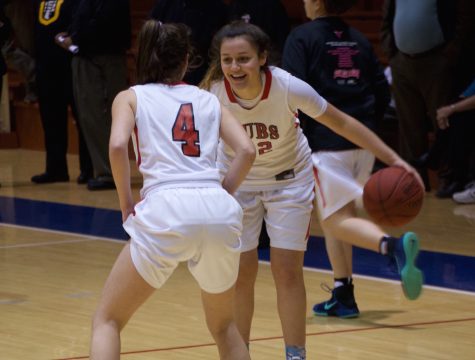 "It's fun to be a part of the team," freshman Jade Despanie said. "We might have hard practices, but at the end of the day we end the games with wins."
Wildcats clawed their way through the 3rd quarter narrowing the lead to 14 points at 34-20. Cubs got a little aggressive, fouling multiple times.
Coach Ren Marquette played five bench players in the last minute of the game. The team maintained their lead until the end of the fourth quarter.
Cubs won the game with a 21-point lead and move forward to BCL West finals. They will play Lick Wilmerding Tigers on Saturday at 8 pm at Kezar Pavilion.
"It's been a long time coming because this is the best we've done in my four years at Convent," co-captain Gia Monachino said. "It feels good to have that cap off my high school career."
(Visited 301 times, 1 visits today)