100,000 gather at SF demonstration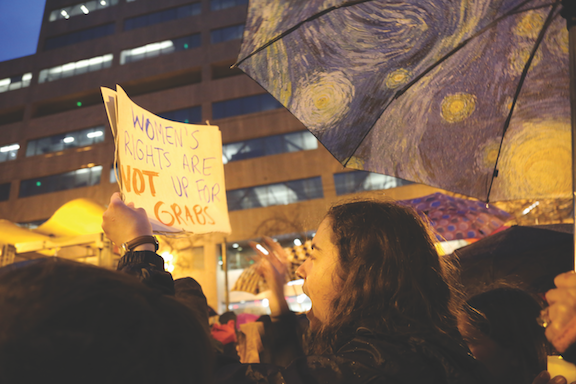 Senior Caroline Salveson peeked out from under her raincoat hood, holding a sign high above her head reading "Women's rights are not up for grabs" while repeating chants like "the people united will never be divided." Salveson marched alongside 100,000 others from Civic Center and down Market Street as it rained and the sun set.
Like the Women's March on Washington that same day, "sister marches" around the country — and the world — aimed to be a demonstration of democracy and a resistance to the "rhetoric of the past election cycle" so marginalized people could make their voices heard during the new administration's first day in office, according to the event's mission statement.
While not the largest march in United States history, the Women's March was the most widespread demonstration, as 673 "sister marches" sprouted around the globe the same day.
"I realized there was a real need to show up as a man and as an ally to support my friends who are women that were participating at the march," physics teacher Riaz Abdulla, who attended the march in San Francisco, said. "For me, the challenge was to hold space without occupying it."
Fifty percent of Convent students attended women's marches,  according to a Broadview survey, with 85 percent in San Francisco and one student, senior Sophia Hettenkofer, marching in Washington D.C.
"By going to the Women's March, I made a concrete idea for myself that this is what I stand for," Hettenkofer said. "I felt I would be more in touch with everything and what was happening."
The official Washington D.C. event gathered 500,000 attendees — a crowd two and a half times larger than the original event permit planned to accommodate, according to estimates by Washington city officials.
"When I was there, it was so surreal because there were so many people that had the same views as me," Hettenkofer said. "I felt so supported and I didn't feel alone because I was a part of such a big cause. That felt really good."
While the march's theme — The Women's March on Washington — drew feminists and women's rights activists around the world, many attendees took the opportunity to advertise and protest for other causes within the broader scope of feminism.
"There were many secondary messages," Abdulla said. "Messages of intersectionality as well as voices of color, pushing 'Black Lives Matter' movements and messages concerning immigration."
While the Women's March on Washington drew many politically-motivated activists and attendees, Hettenkofer said she was inspired to attend in order to represent two often underrepresented groups, Women and Latin Americans.
Registered women's marches had an estimated total combined attendance of 4,956,427 globally, according to the event's attendance records.
"As a young Latin American woman I'm helping to represent the identities of those from my mom's family," Hettenkofer said.