New climbing club is anything but rocky
Group organizes monthly meetings to a local rock climbing gym.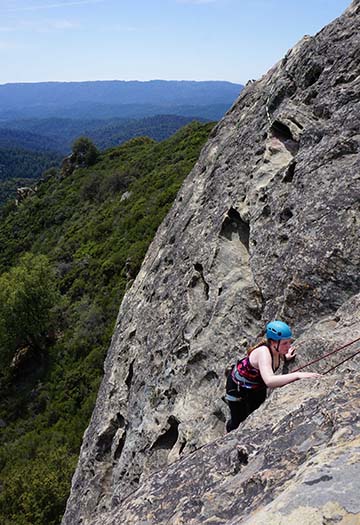 As club members grab onto the holds on the wall propelling them up a seemingly never-ending climb, they brace their weight on teachers and fellow students while participating in one of Smear the Wall's weekend rock climbing outings.
Junior Claire Kosewic formed the rock climbing club earlier this year after getting involved this past spring with the organization GirlVentures, an organization combining outdoor adventure with social emotional learning for adolescent girls.
"I learned to rock climb through an after school program offered at Mission Cliffs," Kosewic said. "I did this with a couple of other girls from Convent, who I probably would never have even talked to and thought that the greater Convent community could have a great experience doing it as well."
The club holds infrequent school meetings, but tries to meet at least once a month on weekend mornings to climb at Mission Cliffs as $20 buys a day pass and the facility is easy to get to by public transportation.
"Rock climbing is a hard sport, and it definitely throws together an interesting mix of people," Kosewic said. "You need to have a lot of mental grit and determination and a lot of physical strength. It's made me a great leader."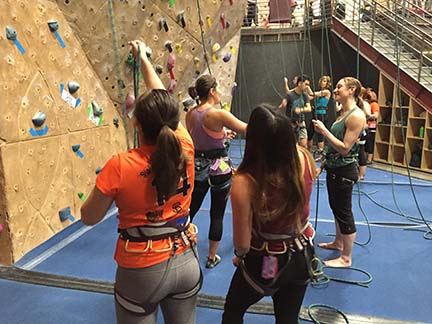 Climbers must trust and listen to their partners as they make their way up the wall, according to sophomore Isis Boivin.

"I think it's calming because I like puzzles," Boivin said. "You have to look at the wall first and test yourself because you are pushing limits as you build muscle."
Faculty moderator Chris Person-Rennell has rock climbed as a hobby since college.

"There are partners in rock climbing because one person is belaying while the other is climbing," Person-Rennell said. "Quite literally, the person belaying has the life of the other person in their hands, so it's certainly a good way to build bonds of trust. I have had students who were belaying me, and I have belayed students."

"

You need to have a lot of mental grit and determination and a lot of physical strength. It's made me a great leader.

— Claire Kosewic

Person-Rennell climbed everyday for a year in college and has ignited support of club from fellow teachers in the Math department.

"A lot of the math teachers are members of our club because they liked rock climbing on the side, which I learned through starting the club," Kosewic said. "I have met a lot of people, who I didn't know had the same qualities, interests and passions."

Climbers also take free lessons at the gym where instructors teach how to tie the ropes and other climbing basics.

"I am responsible for coordinating a big group of people to do a inherently dangerous sport and get people excited about spending their Saturday morning sweating," Kosewic said. "We just go and have a good time."