Discussing diversity
A conference and new club examine forms of inclusion.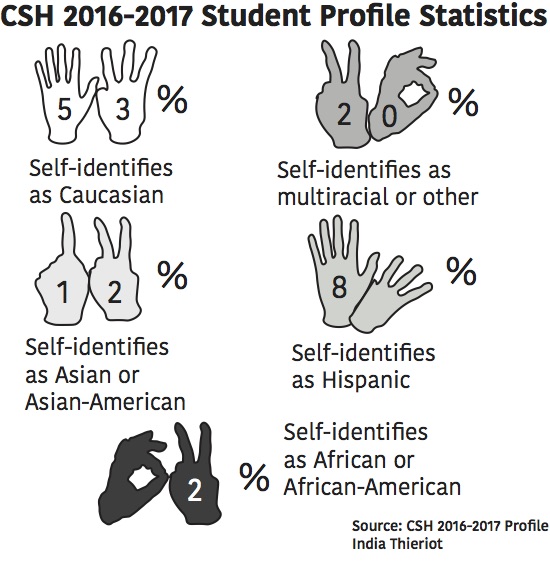 From discussing firsthand experiences to preparing their peers who plan to attend a national conference, a group of students have begun working to improve the school's diversity from financial to racial representation.
Established by Director of Admissions Allyson Maebert, the Inclusion Club plans to address demographic imbalances within the student body.
"Bringing different types of students from other institutions such as public schools would bring a lot more open-mindedness and understanding," Inclusion Club member Mary Crawford said. "Students consciously thinking about the role diversity plays in school is just an important thing."
Fifty-eight percent of student body self-identifies as Caucasian, 20 percent multiracial or other, 12 percent Asian or Asian-American, 8 percent Hispanic and 2 percent African or African-American, according to the school's 2016-2017 Student Profile.
"Convent's lack of racial diversity has really made me watch what I want to say and do sometimes," Hooper, who is African-American, said. "At my old school, I was able to find friends who had similar stories as me, but at Convent I have to accept the fact that not everyone can see things from my perspective."
While some of the city's neighborhoods can be more racially homogenous, the school's racial demographics may closely coincide with the City of San Francisco's 2010 census report as approximately 48 percent of the population self-identifies as white, 33 percent Asian, 11 percent multiracial or other, 15 percent Hispanic or Latino and 6 percent black.
Although race can be a large factor in diversity, the term can be more multifaceted.
"When people think about diversity, they automatically think about race, and it's not always just a racial thing," Maebert said. "It is a very hard topic for a lot of people to engage in because they're nervous that they'll say the wrong thing. Sometimes we have to say the wrong thing in order to do the right thing."
Diversity of the mind, a plethora of different viewpoints from the student body, is currently the main form of varied representation at the school.
"The students I have engaged in conversation with don't always have the same answer to the same question," Maebert said. "It's amazing how every student has a different story about her life and a different way of processing information."
Nearly half of the student  body also receives need-based financial aid with an average grant of $18,000, approximately 44 percent of full tuition — though socioeconomic equality may not exist outside tuition-subsidized classrooms for some students, according to the school's 2016-2017 Student Profile.
"I don't come from a low-income family, but some things my friends do, I might not be able to because of money," Hooper said. "I don't think they understand that's an issue for some people."
The club plans to establish three tangible action items, with possibilities including a bus provided by the school for students living in the East Bay or inclusion-themed assemblies, in the next school year, according to Maebert.
---
"You need diversity to be educated about the world."
Mary Crawford
---
The club also intends to support eight Convent and Stuart Hall High School students who will attend the Student Diversity Leadership Conference in Atlanta, Dec. 8-10.
"You need diversity to be educated about the world," Crawford said. "Just by being able to hear different points of view and see people from different cultures, there's just so much potential in what we can know."
Independent high schools such as Sacred Heart Atherton and Lick-Wilmerding have also previously attended the conference.
"It's important to have students in dialogue with each other so when they come back to school they're able to continue these conversations at a community level — instead of just saying they went to a conference and that was it," Maebert said.
Increased racial diversity in all respects would grant students a more expanded mindset, according to Hooper.
"I may not know how a Latina woman would see the world versus an African-American or Caucasian woman, all three have different perspectives and view their surroundings in a unique way," Hooper said. "It would be amazing to see the world through other people's eyes,"
The initiative for more diversity and inclusion also requires a group effort to foster such an environment from administrators and teachers to benefit students, according to Maebert.
"When girls graduate, we want them to be empathetic to the best of their abilities and just willing to engage in conversations even if they do cause a bit of discomfort," Maebert said. "If we allow ourselves to really listen, observe, participate and do the right thing, that's how change happens."