Options for teens on Halloween limited by oversexualization
Female costumes expose double standard.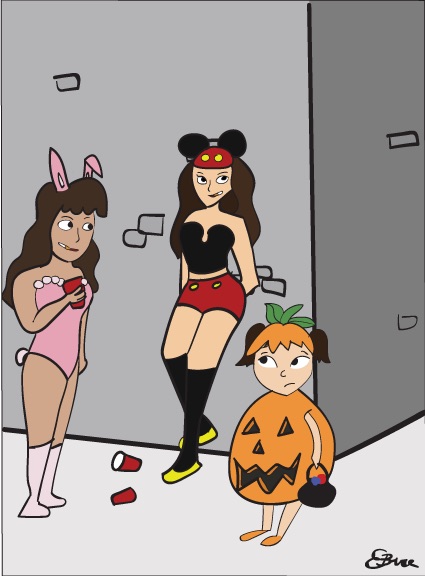 Psychologists and social science researchers are recognizing a shift in Halloween culture "from scary to sexy," as girl's costumes morph from innocent animals and pop culture figures to sexualized options that portray these characters as alluring and unrealistic.
"It looks like the norm is not to be wearing sweatpants for a puppy costume, but wearing tights," school counselor Annie Egan said. "Whatever that differential is, whatever you see in the aisle, starts to have an impact in terms of what you think you should look like."
The change in costumes aligns with the provocativeness of fashion sold by mainstream clothing companies like H&M and Forever 21, according to Egan.
"I personally hate Halloween because now it's so structured as to 'Who are your friends?, What are you going to dress up as?,'" junior Olivia Sanchez-Corea said. "Girls tend to think that Halloween is a day when they can just dress provocatively, that it's a designated day that gives you reason to wear minimal clothing. They give into stereotypes."
Costume designers often create fetishized "career" costumes for girls, such as police officers wearing short skirts with tall, knee-high pleather boots and accessorized with belts and handcuffs. Some child models pose suggestively, with chests made more visible to the camera.
"I am dumbfounded by the irresponsibility of someone around a board table in a creative space drawing out these costumes with a particular age range in mind," Egan said. "These costumes are intentionally designed for a specific age range where there is zero value in making it sexy. There are significant consequences."
Thirty percent of young girls' clothing sold in the United States could be considered sexy, based on the number of garments emphasizing breasts and buttocks or emblazoned with suggestive writing, according to 2011 Kenyon College research.
More recent eroticization, however, may have gone so overboard that it can be hard to take costume options such as "Sexy Big Bird," "Sexy pizza" or "Sexy Mr. Potato Head" seriously.
"Sexy" has become synonymous to "cool" thanks to modern media, according to Sanchez-Corea.
"Choosing to dress as an animal, which has been considered a 'safe bet' in the past, is no longer safe," Egan said.
The teen cult movie "Mean Girls," which parodies a stereotypical clique-based high school social culture, portrays costume oversexualization in a Halloween party scene in which protagonist Cady Heron arrives in a gory Frankenstein's bride costume and a crowd of scantily-clad animals confront her.
"Halloween is the one night a year when girls can dress like a total slut and no other girls can say anything about it," she tells the audience in a voiceover observation.
For some people, it's not so much about what they wear, but more so about the influx of sugar, festive decor and positive connotations that accompany the holiday.
"Halloween is the holiday when people dress up and have candy," senior Cameron Newman, who has won the all-school Halloween costume competition for three consecutive years, said. "For me it's a time to make people smile."
While Newman, whose past costumes have included the Sock Monkey, a Pink Pearl eraser and a box of Kraft Mac 'n' Cheese, acknowledges it might be viewed as acceptable for girls to dress in scantily clad outfits for Halloween, she says, is a time for people to get away with any kind of otherwise socially unacceptable outfit or costume.
But Newman has her limits.
"I don't agree with the sexualization of Halloween," Newman said. "You see all these revealing costumes for women but you don't see the equivalent with men."