Seniors take relaxed school ID photos
Some seniors opted to take silly school pictures, hoping to make an impression in their final set of official school pictures.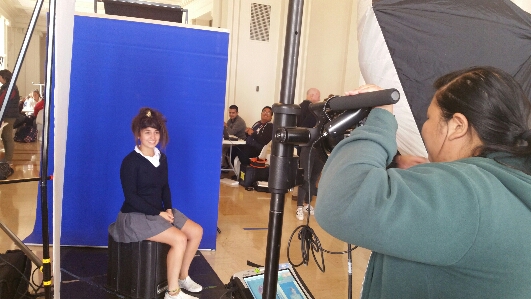 School pictures are over, and while most students frantically touched up their makeup and fixed their hair, a group of seniors did the opposite.
Senior attempts to make an impression included smearing lipstick across their faces and flashing strained smiles, a stark contrast to the efforts many seniors made for senior portraits.
"We get pranksters a lot of the time," Lifetouch photographer John Valdez said. "We discourage a lot of them by telling them that we'll send them to their college reps and see if they still go through with it. Usually we do retakes to correct such behavior but all schools do it."
Other students cheered the seniors on as they each stepped up to take their pictures.
"The senior portraits are weird and hilarious. I wish every picture day could be as fun and easy as theirs," junior Mary Crawford said. "I don't really like picture day because getting ready for a permanent photo that will follow you throughout the year is a hassle and stressful."
Seniors and photographers alike laughed at the finished prints of the senior pictures.
"For the last year, you want to make an impression," senior Julia Gutman said. "It's something that you and all your friends can do to stay connected because you all will have a permanent inside joke."