New schedule earns praise and criticism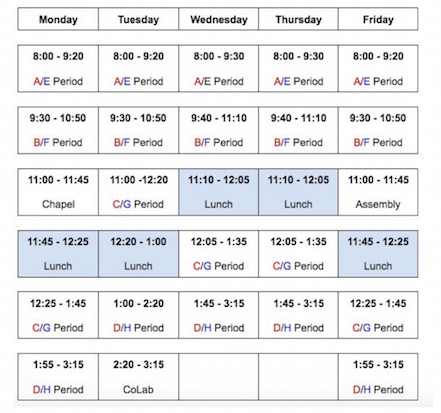 Changes were made to the daily and weekly schedule over the course of the summer to improve the consistency of meeting times for classes.
"The biggest change is the change in the red, blue schedule," Director of Student Life Devin DeMartini Cooke said.
The alternation between red and blue days will carry over the weekend — meaning that, if a Friday was red, the coming Monday will be blue.
"The schedule allows for your teachers to see you every other day," DeMartini Cooke said. "Last year's schedule wasn't consistent enough in terms of letting teachers see their students."
The time and day of Collaboration Lab was also adjusted. ColLab will now take place on Tuesdays at the end of the day.
"This really is in benefit of the athletic program," said Demartini Cooke. "Tuesday was a day that was heavily impacted by early dismissal for athletics and this way athletes aren't missing class time."
Students like senior Mackenzie Maly appreciate some aspects of the new block schedule.
"On red days, I have five classes — my computer class starts at 7:15 in the morning," said Maly. "It is really nice to not have five classes on Friday and Monday."
Despite appreciating much of the new schedule, Maly dislikes how, in the new schedule, the order of block periods will remain consistent. Her classes that are now permanently in the afternoon will not receive the same amount of attention as her morning classes.
"I focus a lot better in the mornings than in the afternoons," Maly said. "I might not get as much out of my afternoon classes because I am just not as focused after lunch."
Sophomore Worth Taylor feels similar to Maly about the schedule.
"I don't like how the periods don't switch," Taylor said. "It gets really repetitive."
Assembly and Chapel will also be reversed — with Chapel typically being on Monday and Assembly on Friday. School days will also invariably end at 3:15 p.m.
"It is a much better alternative," Maly said. "I don't know why they didn't come up with it to begin with."