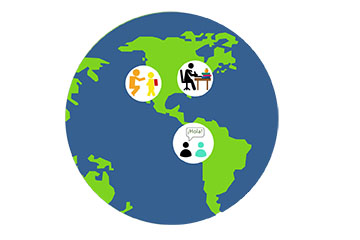 Summer time puts students to work
From service trips to taking classes, summer break time was used productively in the case of student camp counselors, college course attendees and travelers.
Summertime volunteering is done by many students as a way to meet the 100 hour community service graduation requirement without the time constraints of the school year.
Senior Jojo Saito spent the summer as a camp counselor along with other students and alumni at the Convent and Stuart Hall K-4 Summer Program, which enrolls campers from both Sacred Heart and other elementary schools. With a large portion of the campers beginning kindergarten in the fall, the counselors taught them classroom manners to prepare them for the school year.
"We were working with preschoolers basically," Saito said. "We had to teach them rules to get them prepared for a class, like to raise your hand, try to lower your voice when you want to talk, listen to people, and treat people nicely."
This summer, five students participated in school related exchanges, though others may have gone through separate organizations, according to Director of Student Life Devin DeMartini Cooke.
Senior Ally Arora went to the Dominican Republic for two weeks as a service trip, through Rustic Pathways, to teach children English.
"Usually every summer I go on a camp trip," Arora said. "Last year, I took classes at the University of Michigan. This year, my mom wanted me to do something service related and to see another part of the world that I hadn't been to."
Arora's group spent the first week of their trip bonding and then began planning a camp program for some local children.
"We split into groups and ran separate activities so we would sing songs in English and teach them English," Arora said. "All the kids we taught were underprivileged kids from the Pitaze, which is an area that is dominantly people of Haitian descent."
Along with camp counseling positions and exchange programs, some students took part in summer college courses to expand their knowledge and gain experience in certain fields.
"I am extremely interested in psychology and neurology so I wanted to get to learn more about it and do interesting labs in an environment fit for those subjects," senior Caroline Salveson, who attended a nine-day summer course at American University in Washington D.C., said.
Salveson hopes to utilize what she learned in her summer courses for her psychology class that she will take second semester.
"They gave us a ton of notes on topics like how people learn and store memory and the psychology of diction so, when I take my class second semester, I'll definitely be using those," Salveson said. "Summer programs are great because you not only get to meet new people but you also get to do what you love."