Schools personalize Network tradition
Sacred Heart 'holiday' practiced in different ways across U.S.
Festive wristbands labelled "CSH Congé 2016" and confetti flew across the aisles of the Syufy Theatre on March 23 as a clip of a roller coaster played on the big screen.
Nearly every Sacred Heart school in the United States plans an annual Congé, "time off" or "holiday" in French, a Sacred Heart Network tradition in which students take a day off school and engage in surprise activities. CSH and SHHS spent the day riding roller coasters and walking around Six Flags Discovery Kingdom.
"It's really special that we have that day each year where all students can just take a break and relax in the spring semester," SHHS student body president Michael Tellini said. "Particularly for me as a junior, it was a huge relief to have just one extra day before break."
Although implemented in different forms at every Sacred Heart school, the tradition is equally revered among students at each Network school.
"This year we went to Medieval Times," junior Juliana Ketting, who attends Stuart Country Day School of the Sacred Heart in Princeton, New Jersey, said. "It's basically a castle in the middle of nowhere that has jousting. The fact that it's still a surprise is my favorite part."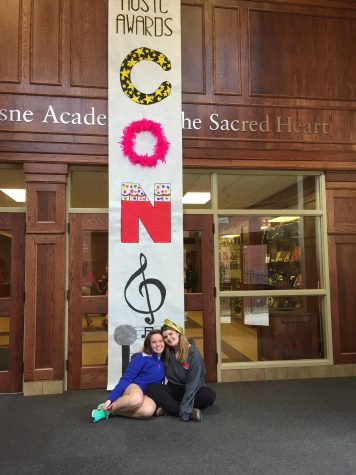 Julia Hall | With permission
Sophomore Katie Walsh and senior Grace Neary from the Duchesne Academy of the Sacred Heart in Omaha, Nebraska announce Congé. The student body engaged in a musically-themed holiday.
Former Convent student Sophia Phillips experienced Congé at CSH freshman year and at Duchesne Academy of the Sacred Heart in Houston for her sophomore and junior year after she moved to Texas.
"It was pretty similar," Phillips said. "It's all the same tradition behind it but something that was a little different here is that it's also a K through 12 school and Congé here is for the entire school. There are a lot of different things that go on because you have to do activities for the younger kids and the high schoolers too."
Teachers anticipate Congé just as much as the students at some Sacred Heart schools.
"The teachers don't know until that morning, which keeps it interesting," Ketting said. "They all freak out because they had stuff planned for class."
At both the Duchesne Academy in Omaha and in Houston, Congé is centered around a theme.
"At our school it's a major secret," senior Grace Neary, who attends Duchesne Academy in Omaha, Nebraska, said. "It is usually announced in the first 10 minutes of school day with a creative announcement that relates to the theme over the intercom. This year's theme was Academy Awards Congé and we got little bow ties for it."
The entire Senior Class, the student council, or in some cases, just the student body president plan the annual Congé festivities.
"It's just the senior president who knows and she basically tells our upper school head where we want to go," Ketting said. "She gives options and our principal chooses."
The Congé reveal is always anticipated, and the surprise holiday was announced at SHHS at the end of an hour-long chapel, according to Tellini.
"A lot of times people will constantly ask, 'When's Congé? when's Congé?' but there is a part of it that's only fun if it's a surprise," Tellini said. "I think the reveal this year, at least at guys' school, planning the reveal and actually executing it was a ton of fun."