Women dare to go bare
Movement works against taboo of breastfeeding, being topless in public.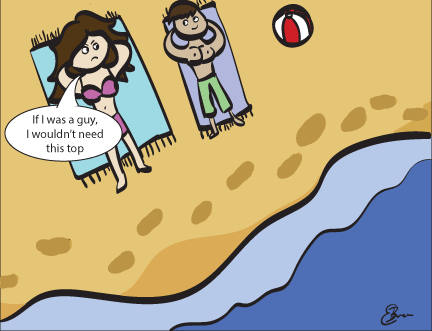 A movement spearheaded by an actress and advocated by a teenager is taking the nation by storm — centering around the female anatomy.
Free the Nipple, a gender equality movement, emphasizes the right women hold to be topless and breastfeed legally in public.
"You can see naked women in magazines trying to sell you things, but you can't see them in real life without viewing it as this horrible thing," Los Angeles, California and Washington, DC Free the Nipple division head Alli Marsh said. "Why is that? We're aiming to take back the sexualization that society has done to the female body."
Marsh, 18, decided to join the movement last year after viewing the Free the Nipple documentary, available on Netflix and later contacted movement founder Lina Esco.
"I was so used to seeing women sexualized that I objectified myself at a really young age because I thought that was how it was supposed to be," Marsh said. "When I found what Free the Nipple was, I immediately decided that I had to be a part of this."
Marsh organized a topless event in Venice Beach, California when the city council proposed a law prohibiting women the right to bare breasts last year. 
"We had a beach day that happened to be topless," Marsh said. "There were adults and children of all ages and genders, and it was really amazing to be a part of."
"Top freedom" laws, which allow individuals of both sexes to be topless in public, are in effect in 32 states, including California. Although the majority of states allow top freedom, local governments have passed ordinances that annul them, according to organization GoTopless.
Topless laws include the right to publicly breastfeed and all but three states allow women to breastfeed in public, although states such as California do not have an enforcement provision which means that a breastfeeding woman can take no legal action against any potential harassers.
"Men can be running without their tops, and women can't sit there and do something that their body is naturally meant to do," senior Clara Phipps said. "That's really unfortunate."
Phipps became interested in the sexualization of the female body after reading an article about pinup girls during World War II — models who dressed in risque clothing as morale boosters for troops.
Marsh, who previously attended an all-girls' high school, says she encourages advocates like Phipps to take action.
"If you want to have a protest, then organize it," Marsh said. "It doesn't have to be approved by us. Free the Nipple is a movement that's open to everyone."
The movement is also not necessarily completely about topless rights, according to Marsh.
"By joining the movement, you're saying that you support women and their right to choose what they want to do with their bodies," Marsh said. "I think it's important for every woman to be a part of something like that."
(Visited 709 times, 1 visits today)