Parent Association prepares for largest annual event
Parents Association prepares for its largest annual event.
Out-of-the-box themes on websites and school buildings such as "Do you believe in Magic?" issue a call to action by a powerhouse cooperative that raises over half a million dollars annually for all four schools.
"Everybody in the four schools can come to participate in our events," Parent Association President Kirsty Ellis said. "It's a great opportunity for people get to know each other and experience that sense of community."
The Parent Association organizes major school events year-round such as the Golf and Tennis Classic in October, Christmas on Broadway in December and Celebrate Spring in March — the association's largest fundraiser event of the year.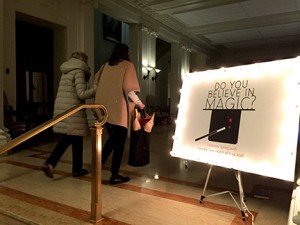 Funds from all Parent Association-organized events go toward supporting financial aid, scholarships and the operating budget of the school, including remodeling spaces and funding teacher enrichment programs.
The Celebrate Spring luncheon, marketplace, gala and live auction take place over two days and attract about 1000 attendees.
"Celebrate Spring definitely builds community because, as an elementary school student, I remember high schoolers running some of the booths," junior Caroline Salveson said. "You can interact with people of other grades along with your friends."
Interactions and community building can go beyond the student body.
Junior class parent Sandra Alvarez helped organize a class parent social in the fall and she, along with class parents of other grades, is planning a second social for the spring.
"The association is definitely a plus for the parents because, even with our Junior Class function in October, I got to know a lot of the parents that I had never met before," Alvarez said.
Alvarez also attends and volunteers at several events as a class parent.
The Parent Association accepts the help of any members of the Schools of the Sacred Heart community who want to volunteer or attend any of the organized events, according to Ellis.
"Our school is so blessed with incredibly committed and hardworking volunteers," Ellis said. "It's a lovely thing to see."