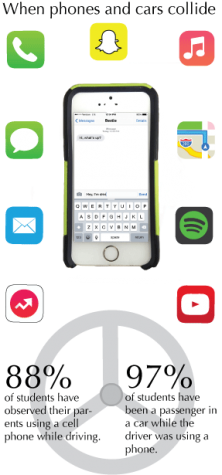 Neely Metz, Copy Editor

October 1, 2015
The enticing ring of a cell phone notification can be distracting to drivers of all ages, but giving into the temptation of personal devices on the road can lead to serious accidents that may even result in death. "Sometimes if I'm reaching for my cell phone, I don't look at the road, and I...
Julia-Rose Kibben, Design Editor

September 18, 2015
The audience was brought to tears during a school assembly this morning after viewing an eight-minute documentary about teens who had been involved in texting and driving accidents. "I cried because all I could think of was my sister who just left for college and the girl in the documentary died ...