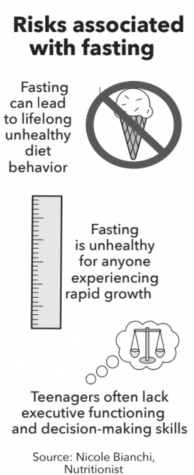 Madeline Thiara, Components Editor

February 14, 2020
Although not eating for extended periods of time can be a healthful diet tool for adults, intermittent fasting may not be the right decision for teenagers.  "I choose to only eat eight hours a day and fast for 16 hours," chemistry teacher Roderick Mobley said. "I have already lost seven pounds in t...
Josephine Rozzelle and Jordan Russell

May 2, 2017
As the summer season and warmer weather draw near — and lighter, more revealing clothing becomes more popular — many teens focus on developing the "perfect summer body" through diets or exercise routines, but weight loss can be detrimental to one's health. "There are a lot of different reasons — ...