Paper dolls exhibit showcases pulp couture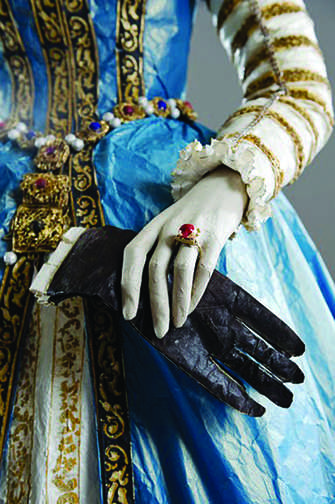 Katy Hallowell
Reporter
The extravagant dresses that line that galleries of the Legion of Honor look like costumes straight off the runway and hung on mannequins. Upon closer inspection, the ball gowns are made not of luxurious fabrics but painted paper.
Pulp Fashion features 60 pieces work by Isabelle de Borchgrave, an artist well-known in Europe for her paper based replicas of dresses, who began designing dresses made from paper pulp in 1998.
De Borchgrave's creations are composed of a thin paper that when painted resembles costumes made of fabric. Pulp Fashion features three distinct collections — Papiers a la Mode, Fortuny and I Medici — that each show a different style of design.
"Usually, a dress takes one month to be created," Pauline de Borchgrave, a communications associate at the Legion of Honor, said. "There is a lot of historical research to be done before beginning the construction of a dress."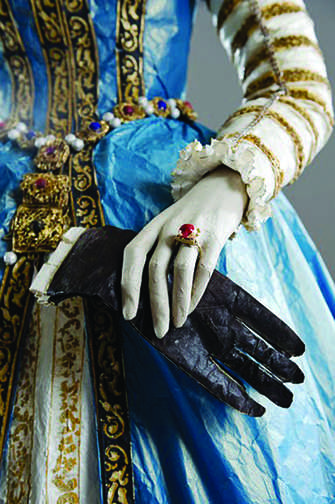 The complex artistic technique entailProxy-Connection:Proxy-Connection: keep-alive
Cache-Control: max-age=0
eep-alive
Cache-Control: max-age=0
painting thin layers of ground, wet paper onto a base for the art. De Borchgrave shows impressive control of the difficult technique, and executes every design with impressive skill.
Because the artist draws her inspiration from paintings she must research styles of the time period and use imagination when designing the backs of the dresses that are not shown in a painting.
De Borchgrave's creations bring history to life in a dynamic and enchanting ways for the people who get to see paintings on the wall transformed into real life designs.
Every aspect of the magical display, down to the smallest accessory, is fashioned out of paper in a way that looks entirely realistic. Dainty and translucent ascots appear to be made out of fine silk and a strand of pearls seems to almost reflect the light.
"Isabelle is a kind of genius of the trompe l'oeil," Pauline de Borchgrave said, referring to the French artistic technique of using optical illusion to create realistic imagery. "She can create a pattern on paper that will look like real jewels."
Pulp Fashion is one of de Borchgrave's first shows in the United States displaying a variety of the works she has created in the medium.
"I would say that the central theme of this exhibition is how art and fashion can describe history," said de Borchgrave.
Pulp Fashion is open Tues-Sun from 9:30 a.m. to 5 p.m. at the Legion of Honor. Discounted student admission is $5. The exhibit runs through June 5th