Free park production offers modern reboot of the Bard's famous play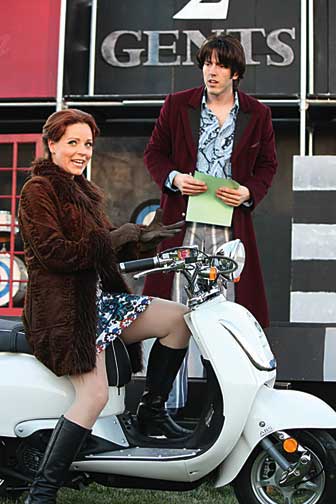 Zoë Newcomb
Editor-in-Chief
I sat down in the Presidio on a warm Sunday afternoon, expecting to see classic Shakespeare. I left rather shell-shocked, not quite sure what I had just witnessed. What do '60's music and Shakespeare have in common? Very little I learned.
The annual San Francisco Free Shakespeare in the Park has been a well-loved tradition in the city since 1938. Families and friends gather to watch modernized versions of the classics from "Midsummer Night's Dream" to "Twelfth Night."
This year's production of "Two Gentlemen of Verona" fell short of the standard, failing miserably to integrate a '60's concert with iambic pentameter.
"Two Gentlemen" might be one of Shakespeare's most relatable plays, a comedy centering around friendship, jealously and love. Sadly, had it not been for my prior knowledge of the play, I would not have been able to follow. Costumes, set and music all distract from the most important component of the play — the dialogue.
The costumes come off as gaudy Halloween getups rather than a realistic tribute to 1960s mod, and the set is awkward and unbelievable. Exposed scaffolding furnished by a giant blue hand sitting on a column seems out of place and disconnected.
Each act is interrupted by the cast lip-synching and air-guitaring to '60's classics like "Don't Throw Your Love Away" by the Searchers and "Where Are You" by Cat Stevens. Rather than set the scene in the 1960s, the interludes just break up the flow and further complicate the performance.
The actors themselves are more than qualified, obviously trained in Shakespearean performance, and the director should receive recognition for such a bold interpretation of the play. Unfortunately for the talented actors, the concept did not quite translate from script to stage.
The most entertaining part of the afternoon was watching the eclectic audience sprawled across the grass on lawn chairs and blankets. Two little girls had untied their father's shoes, unbuckled his belt and tied his legs together with bungee cords before finding a comfortable spot sitting on his shoulders. A group of foreign exchange students sampled less than appetizing snacks and chattered away in Russian, seemingly unaware that they were in the middle of a performance. An elderly couple sipped Pinot Noir and guffawed loudly at the slightest joke.
Despite a less than satisfactory performance, most audience members left with smiles on their faces, seemingly happy with their experience. Unlike a theater production, Shakespeare in the Park is more than just a play but a chance to eat, talk and spend time outdoors with friends and family.
So while "Two Gentlemen of Verona" will not be winning awards anytime soon, it's a worthwhile experience — combining cross-dressing, foggy days and Shakespeare into something uniquely San Francisco. Word to the wise: bring a jacket.
Attend free performances of "Two Gentlemen of Verona" on Sept. 25 at 7:30 p.m. and on Sept. 26 at 2:30 p.m. in the Presidio. More information is available at http://www.sfshakes.org.

(Visited 92 times, 1 visits today)