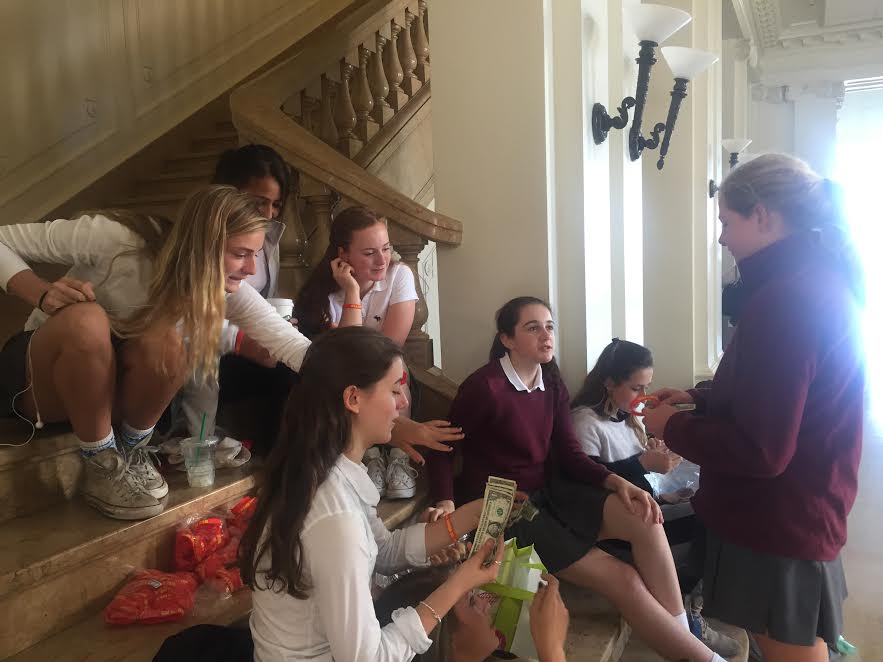 Kristina Cary
Bags of bright red bracelets and containers of sugary treats rested on the bottom steps of the Marble Staircase as freshmen called out to students to come view and purchase the merchandise they had for sale.
The freshmen, who sold the goods to raise tuition money for the St. Charles Lwanga Girls Training Center Kalunga, one of the Sacred Heart schools in Uganda, represented a grade-wide effort to garner support for the Ugandan schools and for this Saturday's Walk for Uganda.
"I helped with the designing of the bracelet and figuring out how much to sell it for," freshman Izzy Gutierrez, who also sold bracelets and baked goods at the sale, said.
Bracelets sold for $2, and sweets ranged $1-$2.
The Freshman Class was divided into five groups to collaborate on planning the Walk and generating support and funds for the Sacred Heart schools in Uganda, according to Director of Student Life Devin DeMartini Cooke.
"We got split into groups by interests," freshman Cece Giarman said. "I'm in the fundraising group, and we had to find additional ways to fundraise for the schools in Uganda, so we came up with the bake sale and the bracelet sale."
Participating in the campaign was a way to introduce freshmen to some of the aspects of being in student government, since the Freshman Class does not yet have a student council, according to DeMartini Cooke.
"We've been working on it about once a week for around three weeks," freshman Grace Boudreau said.
The Freshman Class will also attend the Walk for Uganda to help set up for the event and to give a presentation at the breakfast before the start of the walk, according to DeMartini Cooke. The breakfast event will take the place of the Mater Mother and Daughter mass that the freshman class hosted annually in past years.
"Previously the freshmen had done the Mater chapel and brunch, but a lot of feedback from parents and from students was that students would rather do an activity with their moms," DeMartini Cooke said. "Also [Walk for] Uganda happens around Mater, and it's a natural fit in thinking about Mater being the mother of all of us, and us being sisters within the Sacred Heart schools."
Freshmen will continue to sell goods for the Ugandan cause tomorrow morning. The earnings from today's sale was around $90, according to Boudreau.
"It just feels good to be doing something with my community to help another community," Giarman said. "Knowing that we're connected to the Ugandan school and that we can help them is a really nice feeling."
The Walk for Uganda will take place this Saturday starting at 10 a.m. for $20, although participants can choose to attend the 9 a.m. breakfast event for an additional $5. Proceeds will be used for tuition scholarships, and participants can register at sacredsf.org.