Sketching out a life course
Students prepare portfolios for art school applications.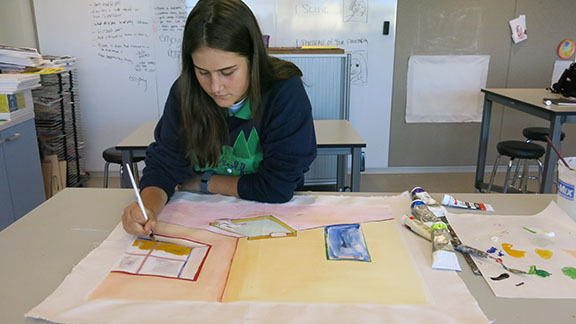 While many seniors have already set their minds on applying to liberal arts or science-based colleges, a few have decided to forego the traditional route and focus on art universities.
"A lot of liberal art schools that have an art program don't usually offer as in-depth classes," senior Stella Smith-Werner, who aims to study graphic or industrial design, said. "I want to be around art students all the time — that is the environment I want."
Both liberal arts colleges and art universities offer students a Bachelor of Arts degree, though liberal arts schools have additional degree programs, according to College Counseling Director Rebecca Munda.
"They may offer a few math and science courses, but typically art school students don't have the core classes that they would have at liberal arts schools," Munda said. "They're jumping right into their art-specific program of study."
Oxbow School, a single-semester art and academics school for juniors and seniors in Napa, helped Smith-Werner predict what going to an art university might be like.
"I was fully submerged in the art community," Smith-Werner said. "Art was related to all of my classes, which is how art schools seemed to run, and I seemed to thrive in that situation."
As a main application component, many art universities require a portfolio in addition to transcripts, test scores and letters of recommendation and essays.
"They all vary as to what their portfolio requirements are, so students applying to art schools really have to keep on track of their requirements," Munda said.
Students enrolled in Advanced Placement Portfolio courses may be able to include pieces created in the class in their application, according to Fine and Performing Arts chair Rachel McIntire.
"My support is talking to them about what colleges are out there for art schools, and that ties into their AP portfolio, which is the creation of a 24-piece work of art portfolio, which they submit to the College Board," McIntire said. "If a student was interested in a specific school, we would look and see what their portfolio requirements are and then tie that to their AP work. "
Students applying to fashion schools or art schools with fashion programs usually submit the same types of application materials.
"A lot of them require a portfolio, especially if you want to take any designer sketching classes," senior Allie Kelleher, who wants to study fashion history, said. "You have to buy a profile and swatches and write a whole customer profile, saying how much money are they going to spend, what brands do they like, what's their job, what's their hobbies."
For those interested in applying to art schools or learning more about their application requirements, the Savannah College of Art and Design is scheduled to visit in November. Students can check on Naviance or with the college counseling office for further updates and specifics.
(Visited 334 times, 2 visits today)