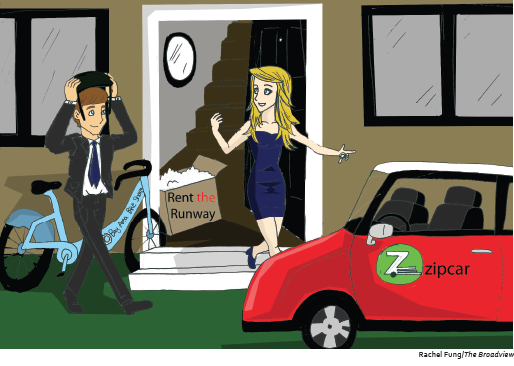 Madison Riehle
Editor-in-Chief
The virtual world has moved to reality for a generation that has grown up with Myspace and Facebook, sharing music and pictures, and updating "friends" on the latest meals.
Sharing services such as Bay Area Bike Share, Zipcar and Rent the Runway provide young adults short on cash or looking to save a few bucks the option to rent bikes, cars and high-fashion clothing.
"My sister used Rent the Runway and that's why I decided to use it, too," senior Sophia Kelley said. "I went to Neiman Marcus first to try on the dress to make sure it fit, then rented it for prom."
Founded by Jennifer Hyman and Jennifer Carter Fleiss, Rent the Runway's website allows members to rent designer fashions and accessories for a four to eight-day period. Website users can toggle through designers like Badgley Mischka, Kate Spade, Calvin Klein, Vera Wang in order to find the right outfit or piece for the occasion.
"I went to two proms last year," Kelley said. "I felt bad buying a dress that I would only wear once. It can be expensive, but compared to the real designer prices, it's a bargain especially for a one-time occasion."
Renters have the option to receive a second dress in another size at no additional charge to ensure a dress that fits, especially when the dress can only be rented a few days before the event.
Dresses arrive with a prepaid envelope for returning the item after the event. The dress is then dry cleaned by the company, saving the renter the extra hassle.
Bay Area Bike Share allows members to rent bikes from stations scattered around downtown San Francisco and down the peninsula to San Jose without the responsibility — or cost — of ownership. Bike riders are limited to 30 minutes per use, and bikes can be locked them at the nearest station once the excursion is over.
"The MTC — the Metropolitan Transportation Commission — had a grant available to put in the bikes in the city," Ralph Borrman, Public Information Officer for the Bay Area Air Quality Management District, said. "The Air Quality District applied and agreed to join together with other companies to make a regional program in the Bay Area."
An annual member key or ride code unlocks the bike from the station. All bikes come with one white LED light and two red LED lights for night travel and a front rack with bungee cords for securing bags.
"The idea for the Bay Area Bike Share is a 'last mile solution,'" Borrman said. "With stations at Caltrain and BART, you can either wait for the bus, or just hop on a bike to work."
Memberships vary from $99 annually to $22 for three-days and $9 for a 24-hour period. Registration is available to people 18 years or over with a credit or debit card on the Bay Area Bike Share website.
Based on the same idea as Bay Area Bike Share, Zipcar allows users to reserve cars from multiple locations and use the vehicle around town for a few hours or the whole day, then return it to any open Zipcar location.
For people who do not want the process of renting a car, but do not want the burden of buying a car, car sharing offers a solution.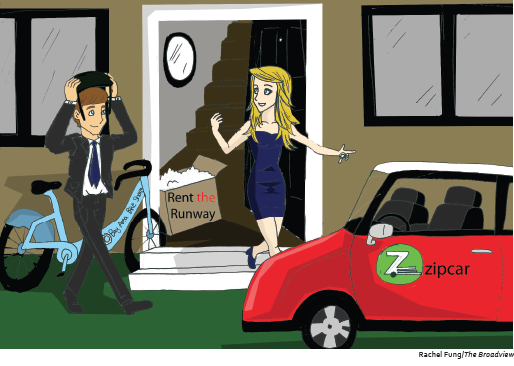 "I use Zipcar almost three times a week," Setareh Mozaffari said. "We only have one car in our family, so when my husband used it, I would get a Zipcar for groceries or to take my son to his basketball games and rent a bigger car for carpools."
Stations are located in San Francisco, Oakland, San Rafael and San Jose, as well as stations all over the world, available to all members. Cars vary from hybrids to SUVs.
Using a car for the day requires a reservation of a car at a lot, which can be located and processed through a computer or on a mobile device. Members use their Zipcards to unlock the door by swiping the card on a device on the windshield.
At the site of the reserved vehicle, the Zipcard — which is sent when a membership is processed — unlocks the door through the swipe of the Zipcard on the windshield.
"It is so easy and convenient," Mozaffari said. "I just rent it for lets say two to three hours and return it once I'm done. Thirty minutes before the time is up it sends you a text, asking if you want more time so you don't have to pay the $50 late fee."
Rental rates on cars range from $8.25 an hour to $89 per day. Choosing prepaid driving gives the option of $50 per month for seven hours of driving, to $250 a month for 36 hours of driving. All plans include gas, insurance and a driving range up to 180 miles free per day and you must be 21 years old to obtain a membership.
For more information go to http://www.renttherunway.com, http://bayareabikeshare.com and http://www.zipcar.com.