Hunger prevalent amongst S.F. kids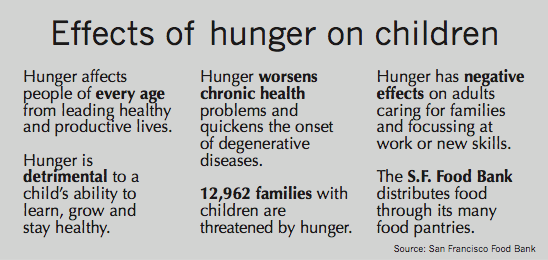 Claire Fahy
Sports Editor
It isn't just the children in UNICEF ads who aren't getting the proper food and nutrition they need to survive due to lack of resources. Twenty-five percent of San Francisco's own children go hungry every day.
"People don't immediately think of kids as facing this problem," Lisa Mizokami, Marketing and Communications Manager at the San Francisco Food Bank, said. "They are a vulnerable population because they don't have access to jobs. We need to take care of them as a community."
Many organizations are stepping up and adopting new tactics to try and meet the apparent crisis. The Boys and Girls Clubs and the San Francisco Food Bank are introducing organizations with initiatives to help fill the void of nutrition in young people's lives.
"Hunger impedes people of every age from leading healthy and productive lives," Paul Ash, San Francisco Food Bank Executive Director, stated in the food bank's profile on childhood hunger. "It impairs a child's ability to learn, grow and stay healthy."
Summer presents a new challenge for these struggling families, according the San Francisco Food Bank. With schools out for up to three months, food programs that supply children with breakfast, lunch and snacks are no longer available. This requires the food bank to double its efforts and apply resources to keeping school food pantries open.
This increase in demand creates a greater need for volunteers, according to Mizokami.
Twenty-two percent of children under the age of 18 in the United States do not have secure and guaranteed access to food, according to a 2010 report by the Federal Interagency Forum on Child and Family Statistics. This reportedly leads to embarrassment and stress experienced by these children and also makes a child more likely to require special education, have to repeat a grade level, and receive mental health consultation, according to the American Psycology Association.
In San Francisco and Marin Counties, one in five kids is facing hunger, resulting in the majority of public schools having high participation in fee reduced food programs that provide breakfast and lunch, according to Mizokami.
The SF Food Bank distributes 27 pounds of food a year through 500 local non-profits such as food kitchens as well as 220 food pantries. The U.S. Census Bureau reports that 150,000 San Francisco residents live below the poverty line, 17 percent of which are children.
"A lot of people think the people who live here are wealthy, and so its a hidden problem," Mizokami said. "The high cost of living means a lot of families are strapped and need resources."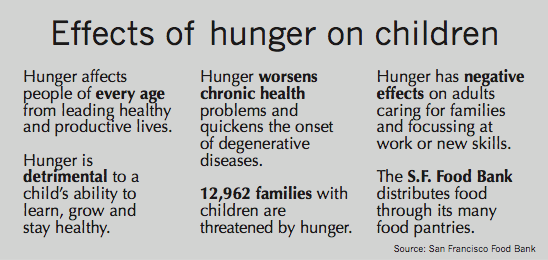 (Visited 668 times, 1 visits today)