Science teacher to retire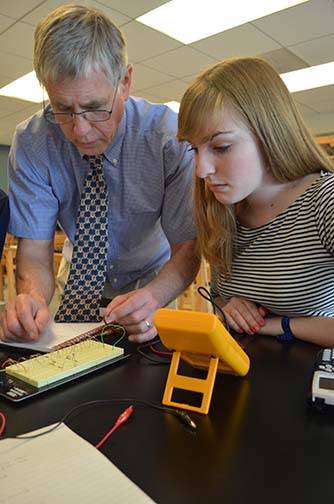 Elizabeth Burkett
Reporter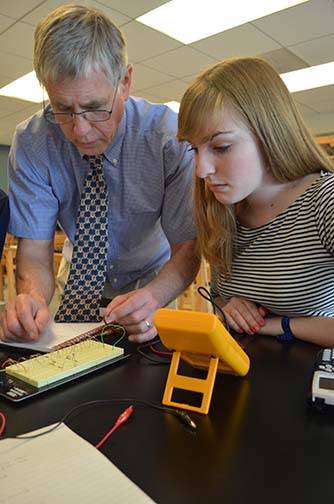 With his quiet Southern drawl, Charles Rooney stands tall by the white board in front of his classroom and in a low voice inserts quick jokes into his lecture material, chuckling to himself. Some students — those closest enough to hear him — laugh along with him.
Calculus and physics teacher Charles Rooney is retiring at the end of the 2012 school year, ending a teaching career spanning over 40 years.
"I wanted to work at a Catholic high school — I was a lapsed Catholic," Rooney said. "I was inspired by raising my daughter, but also by teaching physics because it questions many religious beliefs."
In turn, students such as junior Caite McGrath say Rooney has influenced them.
"I don't know exactly what I want to do in college yet, but I definitely want to do something with science and psychology,"McGrath said. "Rooney made science interesting and inspired me to continue with it in the future."
Rooney stimulates students who are in his class to be motivated, according to senior Kira Rosenbaum. "Mr. Rooney is interactive and animated about problems we are solving," said Rosenbaum, who took both calculus and honors physics. He is very passionate and makes class engaging — he makes us want to learn."
Rooney has fostered relationships with his fellow colleagues during his 12 years at CSH that go beyond the classroom.
"We were colleagues even before CSH at the College of San Mateo back in the '90s," Marisa Kendall who teaches marine biology and AP Environmental Science said. "I think his absolute mastery of the topic of physics has lent a very assured air to the science department. He has added a solidness and stability that will be sorely missed."
Kendall says students don't know about Rooney's outside interest because of his quiet demeanor.
"He is a master pool player and master barman with stories and facts about every type of drink, a master musician who can talk bands and theory, and a virtual computer on so many topics," Kendall said. "He is always quiet about it, always humble — but get him talking and your jaw will hit the floor."
Rooney says he has already made initial plans for retirement.
"I have many guitar projects, some great history readings — and I will need to find some other ways to get into trouble," chuckles Rooney. "My wife and I also hope to do some traveling."
Even so, Rooney says the relationships he has made at CSH have made the decision to leave difficult.
"I will miss my colleagues — this is the best teaching community I have ever been in," said Rooney. "And of course, I will miss my students. They are the best part of teaching."
(Visited 156 times, 1 visits today)