Motion-activated video games are physically beneficial
Elizabeth Burkett
Reporter
The image of a teenager slouched on a couch playing video games has changed with the introduction of motion-sensitive gaming devices that require body motions interacting with life-like images on the screen and getting exercise in the process.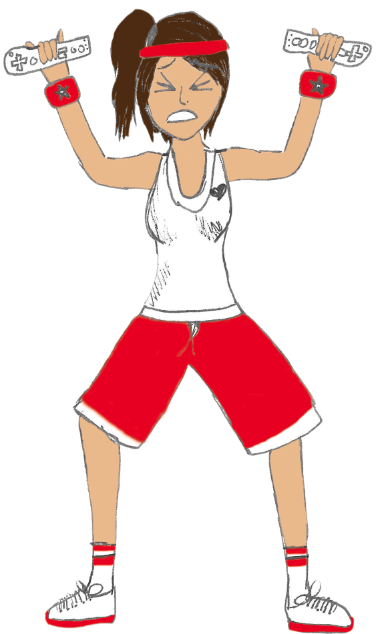 "I use our family Wii Fit to play tennis, and when I get into it, I get a really good workout because I am moving around," junior Kimmy Pace, who plays tennis, said.
Not just another video game, Wii Fit introduces a new combination of fitness and entertainment by engaging the player in exercise such as yoga, calisthenics and balancing.
Wii and Xbox Kinect use a motion sensor remote on the player as she interacts with images on the screen. "Sometimes I try to work on my technique," Pace said, "but it does not work as well for practicing technique because it is so different from holding a tennis racket."
Physical therapists have started using Nintendo Wii for people with balance disorders, generalized rehabilitation and post-operative rehabilitation, according to the McFarland Clinic.
"Wiihabilitation" is used in a number of physical rehabilitation facilities for many types of conditions. Controllers, in the place of joysticks, require players to use a range of motions that are similar to the ones in regular therapy routines.
"I used the balance board in physical therapy for strengthening my ankle," junior Madison MacLeod, who used the Wii Fit modular device, said. "It was relatively effective, but I liked using the balance ball more — I felt like it exercised my ankle more. When I play, I feel like I am playing a game not working out."
Although some interactive video games may not work for everyone, there is a variety of options. Aside from Wii, other manufactures have developed gaming devices and games that also use motion-activated controllers that copy a player's movement with an onscreen avatar.
"We don't have a Wii, but we use an Xbox Kinect to play 'Just Dance 3,'" Helen Leong-Luke, CES physical education teacher, said. "The game is great because we can have up to 20 fifth-grade girls dancing at the same time in a classroom-sized spaced. We had all the students sweating in 10 minutes."
The Wii Fit burns an average 144 calories an hour on a 130-pound woman, according to FitSugar.com. The exact number of calories burned depends on the game played.
"Using gaming devices can be very cost effective," said Luke. "Not every student needs a controller to play and it is quick and easy to set up.
We give the students the option of working out in the gym as well, but the students are always asking to play — and they love listening to the music".
(Visited 114 times, 1 visits today)