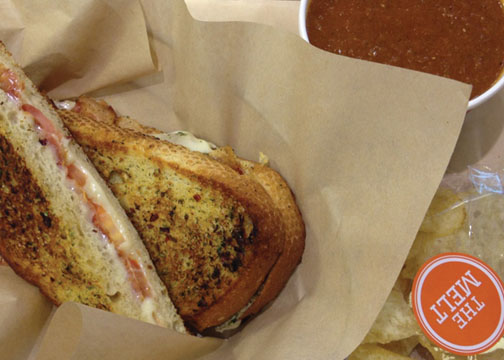 Alice Jones
Reporter
Your mother's Wonder Bread and Velveeta grilled cheese sandwich will never taste the same once you've been to The Melt. The newly-opened, three-store chain limiting its menu to gourmet grilled cheeses and a set list of soups paired in five combinations makes picking what to have for lunch a breeze.
The most challenging decision is which combination to have of the diverse options — all at $8.75: The Classic, Mission, Outlaw, Italian Job and Parisian, or one of the incredible specials, The Dirty.
The Classic is a crowd favorite, according to The Melt's staff. This sandwich has a homey feeling and gives off total comfort while mid-munching. The sharp jack cheese and potato bread work perfectly with the side of tomato soup, which is a bit on the sweet side to be labeled "classic." Although it may be popular, if you're going to eat out, get something bolder.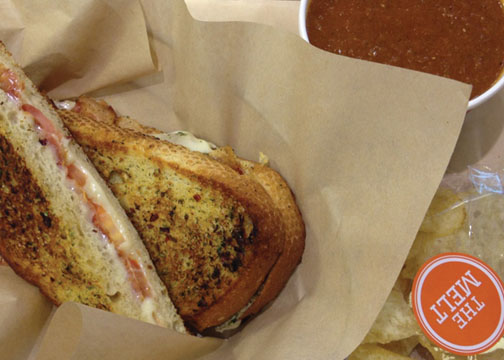 The Outlaw, Colby Jack on eight-grain bread can be ordered with a free addition of tomato or bacon to make the sandwich even heartier. Don't be put off by the side of black-bean soup — it's not super spicy, but has a nice hearty kick to go along with the rich sandwich.
The heartiest of options is The Italian Job, fontina and provolone on garlic bread served with an Italian sausage and pepper soup. The cheeses are rich and flavorful, nicely accenting the lightly flavored garlic bread. The soup is pureed so it isn't traditional, but it still has a bold taste of sausage and peppers. The sandwich is well spiced with garlic and has a very authentic Italian taste for an all-American-style restaurant.
When it's available, The Dirty must be tried. The sharp cheddar cheese, jalapenos and delightful addition of Lay's Barbecue Flavor Chips on sourdough makes for a ridiculously flavorful grilled cheese. It comes with a sweet corn tortilla soup that has the perfect amount of sweetness to balance out the spice of the sandwich for optimal dunking. Sadly, it is only a special, so check The Melt's website beforehand to find out what days it's served.
A regular spicy option is The Mission, jalapeno Jack on sourdough. Don't get the wrong idea — the jalapenos aren't too much spice to handle but add to its incredible taste. The spice level is perfect and not overwhelming, and the tortilla soup that comes along with has a sweet corn taste that creates a perfect fusion of flavors. It makes sense why this would be one of the most frequently ordered combos.
My personal favorite is The Parisian, Brie with apple butter on white wheat that is almost too delicious to finish. It comes with a rather strong pureed mushroom soup that is tasty, but the sandwich really steals the show.
Another inventive contribution to the menu is the Sweet Melts. The Melt offers a no nut peanut-butter and jelly sandwich with fig jelly and a spread made from graham cracker cookies, making a peaunutty sweet taste that is shocking. I couldn't tell what I was eating, but the interesting texture and sweetness, makes it worth the risk to try. The raspberry shortcake, is a sponge cake with a very light raspberry jelly spread. It isn't too impressive, but is a sweet simple dessert to finish a meal. The S'more, Nuetella and marshmallow fluff on white bread, is more bread than anything. It is a creative idea but should have more of the sweet filling than the filling bread.
The Melt uses QR codes to speed up getting your food, setting it apart from other quick lunch spots. Customers who order and pay online receive a QR code, scan it at the counter, grab lunch and go. This gives customers more time to eat and spend less time waiting in line. Jonathan Kaplan, owner of this successful chain, incorporated this new technology is an original idea that involves technology, appealing to a younger fast-paced crowd.
SF Melt Locations
The Embarcadero
One Embarcadero Center
Mon.–Fri.
10:30 a.m. to 9 p.m.
Sat. 11 a.m. to 6 p.m.
The Melt Spear
345 Spear St., Suite 126
Mon.–Fri.
11 a.m. to 8 p.m.
Downtown
115 New Montgomery St.
Mon.–Fri.
10:30 a.m. to 9 p.m.
Sat. 11 a.m. to 6 p.m.
Order Online
www.themelt.com