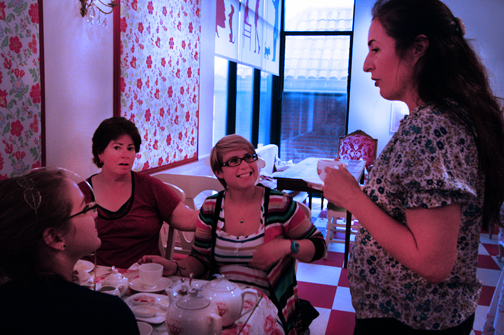 Rebecca Lee
Editor-in-Chief
Amy Denebeim Dean ('81) owns and manages Crown & Crumpet, a "room with tea and wit" with husband Christopher Dean. Denebeim Dean attended university in Switzerland and later worked as the Creative Services Manager for the U.K. Ralph Lauren stores and a prop buyer and set dresser for pop videos, feature films and commercials. She moved back to San Francisco in 2001 and opened the antique store La Place du Soleil with her husband. They closed their antique shop in order to open Crown & Crumpet in September 2008 at Ghiradelli Square.
How did you get the idea of starting a tea room?
My husband and I have always loved tea — even our wedding in England was an afternoon tea party. We wanted to have a tea room that was attached to our old antique store that we used to have. There aren't any tea rooms that are like ours that have so much attention to detail, so we didn't want to make it very old-looking [but] more contemporary and a little traditional — but fun. It's something that we've always wanted to do and we spent a lot of years coming up with ideas.
What are the similarities and differences between Crown & Crumpet and other tea rooms in the United Kingdom?
Most restaurants in London offer an afternoon tea option where there's tea, cake and scones and some will do a full afternoon tea experience, but it's tied into the whole restaurant — there aren't specific tea rooms. When you go outside of London, there are little country tea rooms or little cafes that serve afternoon coffee and tea. A designated, dedicated afternoon tea room really doesn't exist in London right now but we hope to open Crown & Crumpets there and be that business.
Where did you find the name "Crown & Crumpet"?
We met a woman who was a graphic artist at our old store who helped us come up with the name. We knew that we wanted to have an English classic name. We wanted to have it similar to two people's names like an 18th or 19th century English business name — "something and something". I mentioned "crown" and then our graphic designer said "crumpet."
How did the idea surface for your logo?
[Our graphic artist] was also able to design the logo around the name. The crown is a copyright Dover free one that the basis of the teapot is made from. We wanted something with a crown for our logo, something royal. I told her the design of the logo had to have a teapot in it and have a crown somewhere on it. I wanted to look classic like an old engraving or initials — something that was classic but in a bright color.
What are some of the challenges of running your own business?
Sometimes I need a little break from now and then. My most difficult challenge has been as an employer because you want to get the right team together. When there are so many different personalities it can be like a family dynamic so there can be tension and problems but we have a really great group working together now.
How do you feel about waking up in the morning and going to work?
I love coming to work and being here. I love working with my husband and all of the people we work with and it's happy. I never want to get to the point where I do not love my job. My favorite part of it is talking to and meeting new people. I love getting to sell the idea of afternoon tea. I think when you love your job then it's not really a job, just where you belong.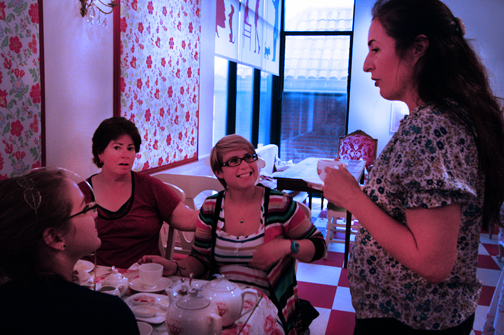 What inspires you to get new ideas for your shop?
We travel to the U.K. three times a year and I am constantly finding new things, ideas and inspiration. I'm buying everything — postcards, sometimes other menus and anything else that I really like. I always keep an inspiration book with me and I tape everything into the book. I write everything down — it's like a scrap book that I travel with. Inspiration is a huge concept for me, and it's everywhere I look — colors and food and tea. There a lot out there.
Are you ever worried that someone might copy your unique ideas?
I never worry about other people stealing ideas because even if they did try and steal, they're hopefully going to put their own twist on it — they may change the colors or anything else to make it different.
How do you choose the teas and the sandwiches?
Our teas are supplied to us from various tea suppliers from all over the world — the U.K., Canada to Japan, Africa. We have a local supplier for our oolong tea, who gets it from Taiwan. We go to the world tea exposition in Las Vegas every year. We're always looking for new ones and special ones for the holidays. Tea sandwich-wise, it depends on what is in season and what the market produces but we always try to have the English classics — egg salad, smoked salmon, some sort of chicken and then the cucumber and cream cheese. Our chef does come up with new ideas based on English tea room books and whatever else gets delivered.
What is your personal favorite tea and sandwich combination?
I love our egg salad and our Crown & Crumpet private blend and all of our scones. I love it all, especially because our pastry chef changes it all of the time, so some I like better than others but I like it all.
Crown and Crumpet:
207 Ghirardelli Square
900 North Point St.
Tea Room Hours:
Monday–Thursday 11 a.m. to 6 p.m.; Friday 11 a.m. to 9 p.m.; Saturday 11 a.m. to 9 p.m.; Sunday 11 a.m. to 6 p.m.
Reservations: 415.771.4252 or visit www.crownandcrumpet.com