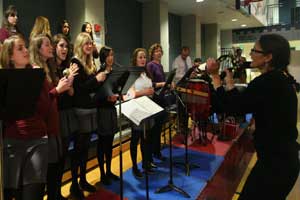 Rebecca Lee
Reporter
Liturgical music accompanied by a trumpet, piano and two guitars accompanying Joyful Noise! fills the second floor of the Siboni Arts and Science Center after school one day, while the next morning loud Christmas music resonates on the first floor from Instrumental Music.
Both groups give students, faculty and staff the opportunity to share the musical talents with the four-school community.
"The students have a choice to help lead [religious] services," theology teacher Kate McMichael, who directs Joyful Noise! said. "I like it when all people are joyful and having a good time but dislike the feeling that one is excluded."
"[Joyful Noise!] helps people focus, especially during chapel," junior Natalie Sullivan said. "Not all of us are necessarily religious, so it gets people involved."
Participating in concerts outside of liturgies allows members to sing other genres of music. Their December concert is in collaboration with the Four-School Orchestra.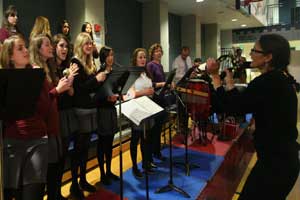 Director Bonnie Fraenza says she is aiming to incorporate more girls from both the elementary and high schools into the orchestra, athough it's a challenge.
"Sports make it difficult for kids to join," Fraenza said, "and it doesn't draw people who already play instruments."
"I have a very busy schedule," said junior Caitlin Martin, who has played the violin for 12 years. "I already have lots of music to learn. There's too much on my plate."
Fraenza encourages students with a wide variety of musical experience, although she has a few requirements.
"They should be able to read music," Fraenza said. "We can teach them how to play and they will get better through practices."
Joyful Noise! gathers weekly on Wednesdays during Activity Period in the Den and Instrumental Music rehearses after school on Tuesdays and during Breakfast Club on Thursdays. Contact Fraenza at fraenza@sacredsf.org or McMichael at mcmichael@sacredsf.org for more information.