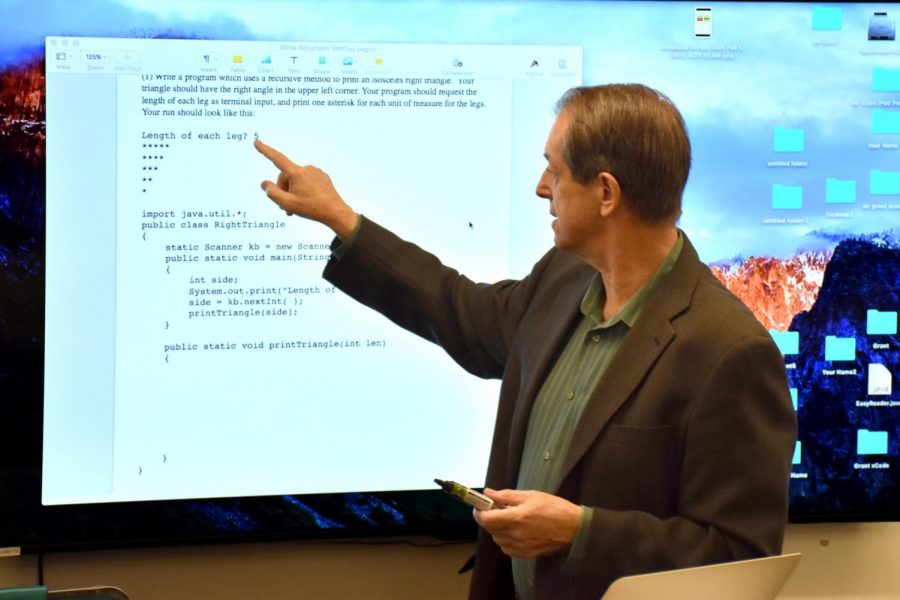 Natalie Kushner | THE BROADVIEW
After 50 years of teaching computer science and mathematics as well as leading Convent as head of school, Convent & Stuart Hall awarded Doug Grant the Niehaus Family President's Excellence Award and named a recently-donated endowed Chair of Computer Science after him.
"Mr. Grant received the award, recognizing someone whose contributions in the classroom have been extraordinarily impactful on behalf of the student learning experience," Head of School Rachel Simpson said. "Nominations were collected from across the school, and then a small committee sifted through the nominations and ultimately selected the awardee."
Grant originally started as a math teacher at Stuart Hall for Boys in 1967 before moving next door to Convent where he eventually introduced computer science into the curriculum.
"I remember students would come into the room and be frightened to even touch the keyboard."
"I think as a teacher you can do a lot to affect the daily experience of the students," Grant said about continuing to teach during the 17 years he was head of school. "As a principal, this is more indirect through who you hire and how you mentor them — which will ultimately have an impact on the students — but it's a little more removed and not as present in your day-to-day life."
Grant, who currently teaches a combined Advanced Placement and International Baccalaureate Computer Science class for juniors, taught both of his daughters, Becky Grant ('90) and Larkin Grant ('08) when they attended Convent.
"It felt really natural to have my dad teach me something," Larkin Grant said. "Instead of having your dad teach you something in the living room, he's teaching you and eight of your other classmates."
Grant has taught computer science since the days of monotone cathode-ray monitors and keypunched cards, the development of the computer mouse, the introduction of internet to homes and schools to today's wireless connection for laptops and smartphones.
"I remember students would come into the room and be frightened to even touch the keyboard," Grant said. "It was difficult to get people to embrace technology, but when you see technology that can benefit people, you have to patiently introduce it to them and watch it change their lives."
Employment in computer occupations has increased by 700,000 employees between 2009 and 2015 and is projected to increase by 12.5 percent by 2024, according to U.S. Bureau of Labor Statistics.
"I remember speaking to Mr. Grant about the possibility of exploring computer science as a major — he was so supportive," senior Kelly Chan, who has been in his classes for three years, said. "Whenever I doubted myself or questioned my abilities in computer science, he would always encourage me."
Katie Newbold ('17), who is majoring in computer science at John Hopkins University, said she felt inspired to pursue in it after being in Grant's class for all four of her years at Convent.
"I wanted to take AP Computer Science when I was a junior because I knew it was a class that wasn't offered at a lot of other schools," Newbold said. "I also really liked the problem-solving aspect of computer science — how you were given a really big problem and had to learn to break it down into smaller bits."
"Anytime I have a problem, he approaches it like computer code saying, 'Here are our options. If this doesn't work, then try that.'"
Newbold says Grant's calm and logical way of thinking made computer science seem like a manageable subject to her.
"He tuned into the fact that when you're teaching someone programming, you're teaching them how to think," Becky Grant said. "The way that he explains problems and helps you tune into what you need to learn. It's really unique."
Larkin Grant says her father's algorithmic way of thinking extends to his personal life as well.
"I think the computer science class is a perfect fit for his personality because he takes that approach to problem solving anything else in life," Larkin Grant said. "Anytime I have a problem, he approaches it like computer code saying, 'Here are our options. If this doesn't work, then try that.'"
Grant employed the problem-solving aspect of coding to improve the school community with technology in the 1970s, creating codes for mailing and scheduling at Convent that ended up being used for more than 30 years.
"I walked into a room, and I watched a nun in habit with a big magnetic board move magnets around trying to make student's schedules, which inspired me to sit down and write a code for scheduling," Grant said. "These are standard computer applications now, but in the 1970s these codes were new to schools, and helped the community as well as my skills."
Grant's impact on the community and his students is represented in the endowment gifted by alumna Patricia Munter ('86) in his name, to which the school will match to $500,000, and the Niehaus Family President's Excellence Award, an annual prize presented to a member of the adult community "who who exemplifies and meets the highest standards of performance in their field."
"It is humbling but also affirming that people have recognized it is important to continue with coding as a fundamental, integral part of the curriculum," Grant said. "It makes me excited that the subject I have invested my career into is one that is going to continue — and that's great for the benefit of the students."