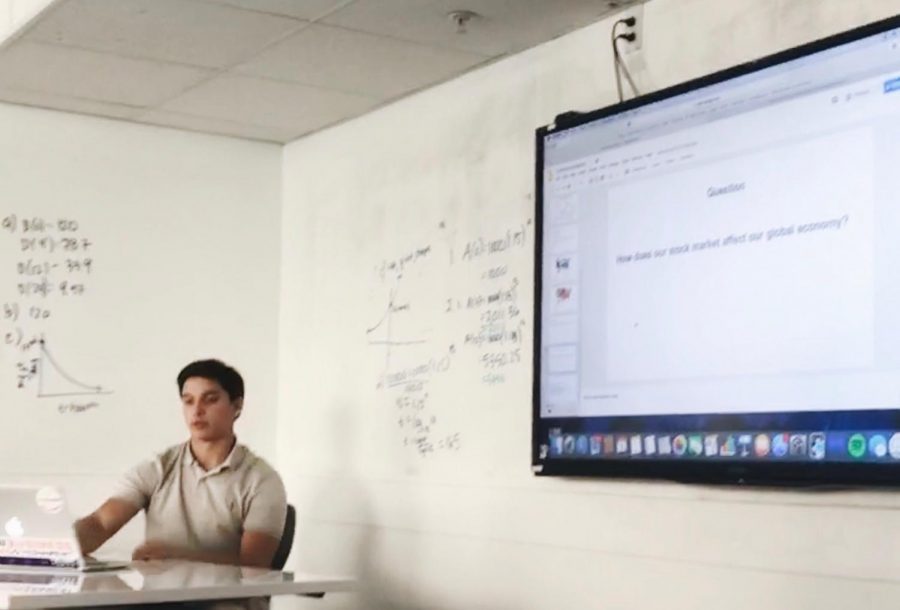 Cassie Eskicioglu
WEB EXCLUSIVE Economics class offers students a chance to display their knowledge and further their understanding of the subject through class presentations.
"I think that presentations, in general, help my learning because I am more of an auditory learner," senior Caroline Phillipps said. "It helps me in economics especially because it is such a dense topic, so having my classmates and teacher give such a wide variety of information [out loud] helps me understand the topic even more."
Economics teacher Angelica Allen gave students minimal guidelines to the project to allow for flexibility and variety in the presentations. Students presented on a wide range of topics ranging from the economics of the  Harry Potter book series to music festivals.
"I think it is really important for my students to understand how the key terms that we talk about in class relate to topics that they are interested in and to also see that economics is a topic that permeates a lot of different aspects and interests," Allen said. "I think that it is a very valuable lesson to understand how schoolwork or key terms relate to the world around you."
As economics is a broad topic, students like senior Amelia Estes found it helpful to study a more specific topic and learn from other presentations.
"I think that by doing my own research for the presentation I was able to explore more in-depth into concepts that I did not understand," Estes said. "I also think it is so interesting to learn what other people are passionate about through the presentations."
The presentation allowed students to study a topic they were interested in outside of the classroom. Some students also found the presentation to be helpful in preparing for college, according to Phillipps.
"The presentation has helped me apply those lessons learned in class into something modern that I am interested in," Phillipps said. "I chose the ethics of investing for my presentation because I wanted to be more informed as someone who is about to go to college and is going to have to make their own fiscal decisions for the first time. I also thought the topic was interesting because it puts an ethical twist on something that could potentially be viewed as just mathematically based."